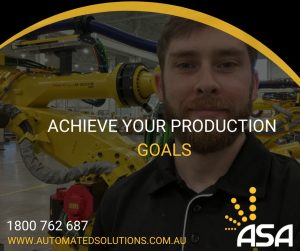 Automated Solutions Australia is well-placed to assist you in accomplishing your production goals across almost any sector using our vast knowledge base and best practices from our global experience. We are ready to take on any problem in the manufacturing industry, with more than 100 different FANUC robot models available, and more than 20 years of experience assisting businesses in achieving their production targets.
The combination of market-leading FANUC robots and the specialised expertise provided by Automated Solutions Australia, can help you achieve your optimal production outcome. Because of the wide range of application-specific solutions offered by FANUC, coupled with their straightforward integration, industry-leading payloads of up to 2,300 kg, and maximum reaches of up to 4.7 metres, these robots are best placed to offer end users comprehensive versatility.
How Can We Help? 
At Automated Solutions Australia, we are prepared for a variety of manufacturing challenges across a wide range of industries. 
Automated Solutions Australia (ASA) is your ideal FANUC industrial and FANUC collaborative robot integrator. Our industrial engineering team at ASA are FANUC robot specialists, from concept to system designs, installations, programming, and support. At Automated Solutions Australia (ASA), we love helping Australian businesses of all sizes reach their automation goals, and build their sovereign capability. This lets Australian manufacturers compete on the world stage. Automated Solutions Australia (ASA) is an industry-leading expert for all your FANUC industrial robot and FANUC collaborative robot needs. Phone Automated Solutions Australia (ASA) today on 1800-ROBOTS (1800-762-687).
Want to learn more about FANUC industrial robots? Phone 1800 ROBOTS (1800 762 687).
.