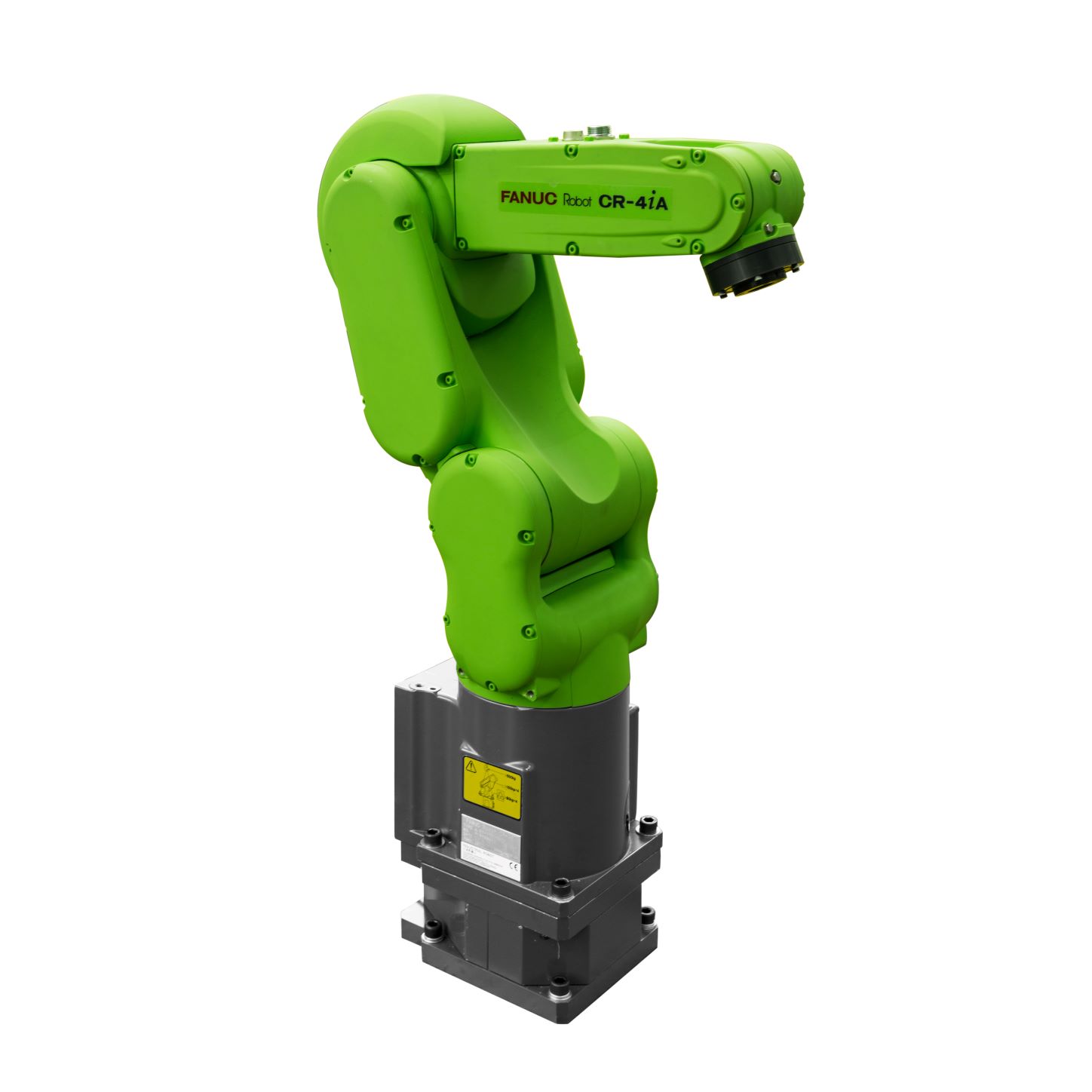 FANUC CR-4iA Collaborative Robot Applications
The FANUC CR-4iA Collaborative Robot (cobot) is a 6-axis robot with a reach of 500m and payload of 4kg, making it the smallest collaborative robot in the range. Its small size allows it to fit in tight spaces and work within limited work envelopes. It has a variety of mounting options including wall and invert. This results in a wider range of motions, thus that the operator's work space is never compromised. This cobot is ideal for machine tending inside a CNC machining centre, helping with part change-over and handing off completed parts to another robot or a human worker. This robot also capably operates with a human at a workstation for quality control or assembly tasks. This allows the human to focus on more technical tasks such as inspection and small part assembly while the robot does the repetitive labour.
FANUC CR-4iA Collaborative Robot- Safety at the Forefront
In addition to its compact and slim design, the FANUC CR-4iA Collaborative Robot was created with safety at the forefront. As this robot is specifically designed to collaborate with humans, its built-in safety stop feature means that fencing is not required around the workspace. This capability increases workspace availability, resulting in cost reduction. The FANUC C4-4iA Collaborative Robot has an in-built smart sensor, which ensures that if at any time a human and robot collide, it automatically halts. To resume, a simple 'push' will reactivate its movement. The human can also adjust how closely the robot is working to them, with the option to move it slightly away, where it will remain.
Automated Solutions Australia has decades of experience integrating FANUC robots to suit our customer's needs. ASA can manage your project from start to finish, including system specification, design, programming, installation, commissioning, and servicing. Contact our expert team at ASA today to discuss how this Collaborative Robot can help transform your production processes.
Specifically designed to collaborate with humans and with safety at the forefront, the FANUC CR-4iA Collaborative Robot is the perfect solution to highly manual, tedious, light-weight tasks.
Click an Application to Explore Further:
 FANUC Paint Finishing, 
 Welding, 
 Palletising Robots, 
 Machine Tool Tending, 
 Robotic Vision Inspection Systems,             
 Plastics Painting, 
 Materials Handling Applications,
 Deburring and Polishing, 
 Fibreglass and Gelcoat Robots,                          
 Sealing and Dispensing, 
 Picking and Packaging, 
 Material Removal, 
 Shot Blasting and Peening