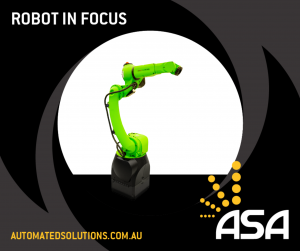 The larger 6-axis collaborative robot, FANUC's CR-15iA, is perfect for applications that require a long reach and sufficient room for movement. Smaller parts and supplies can be moved over longer distances, such as between machines or workstations, or from storage racks to a machine or processing station. This robot is perfect for working beside operators, without putting their safety at risk. This unit can be hung upside down on a ceiling or at an angle on a wall, so provide even greater floor space in a collaborative environment. The FANUC CR-15iA Collaborative Robot is perfect for repetitive work, since it can easily learn new tasks through FANUC's hand training device.
You can read more about FANUC's CR 15iA here
To speak to one of our industry leading experts about FANUC's Cobot range, phone 1800 ROBOTS.