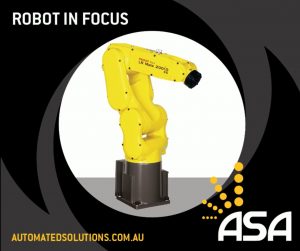 The FANUC LR Mate 200iD/4S is designed for lightweight applications, with a maximum payload of 4 kg at its wrist. With an overall unit weight of only 20 kg, the robot can be mounted flexibly depending on the job requirements, including floor-mount, mounted upside-down on the ceiling, or angle-mounted. The mechanical units are also fully sealed, with an IP67 rating.
The small size and dexterity derived from the 6 axes of control make it the ideal option for automating complex tasks where limited space is available. Common applications include:
Assembly –for intricate assembly processes requiring small parts to be precisely and efficiently positioned.
Material removal – it can be fitted with specialised tooling to perform finishing processes such as sanding, grinding, and drilling to small parts.
Machine tending – it can also be used to load and unload small parts from other automated machines to maximise the production capabilities of CNC equipment.
To read more about this robot, click here.
To speak to an industry-leading expert, phone 1800 ROBOTS.