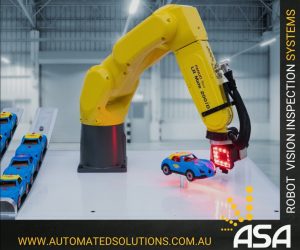 FANUC robots come "iRVision Ready," making FANUC the only manufacturer of industrial robots and collaborative robots (cobots) that integrates its own patented vision technology with inspection robots. iRVision is an innovative, fully integrated visual detection technology that enables FANUC robots to see and makes quality inspection more efficient, intelligent, and dependable.
The automation experts at ASA are committed to providing businesses with integrated robotic vision inspection systems for evaluating product quality. These automated systems are user-friendly, adaptable, and simple to install. In addition, iRVision inspection solutions can be utilised without specialised training or complex programming.
To read more about Robot Vision Inspection Systems, click here.
Want to speak to an industry-leading expert about your Robot Vision Inspection System needs? Phone 1800 ROBOTS.