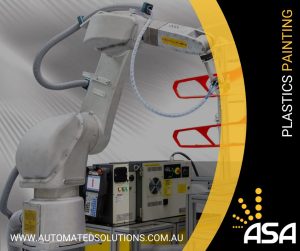 It's that time of the week! For this What We Do Wednesday, we focus on plastics painting.
World-class
FANUC
plastic painting systems are available via Automated Solutions Australia. At ASA, success goes hand in hand. We give our customers the best
plastic paint
quality possible, so they can make the best plastic paint components possible. At ASA, we achieve high-quality applications and continuous quality improvement to meet our customers' plastic paint parts needs. We can do this by utilising a variety of robotics systems to provide full prime and topcoat coverage, as well as providing a 2K Clearcoat application.
ASA can manage variables in the application of plastic paint thanks to the use of dynamic process engineering software, enabling us to precisely control the paint application on our robots, resulting in less paint waste and improved paint transfer efficiency to the part. We can save time and money and supply our customers with any plastic paint colour or application time they desire because all of our robots have incredible flexibility with static paint attraction, shaping, vortex air management, and colour shifting capabilities.
You can read more about Plastics Painting
here.
To talk to the experts in plastics painting, phone
1800 ROBOTS.