The FANUC P-250iB robot is arguably the most flexible and advanced 6-axis robot available in the FANUC robot range for painting and fiberglass applications.
The P250iB is adaptable in its mounting configuration, being able to be wall or ceiling hungor floor mounted, to meet the needs of differing applications. At the same time, it has a high 15 kg applicator payload, allowing for it to be fitted with a broad range of rotary atomizers or multi-headed spray guns. The robot also comes with the option of a non-conductive wrist and arm cover, to facilitate better electrostatic transfer to the substrate, and avoidance of issues such as "wrap" that are common in automated painting applications.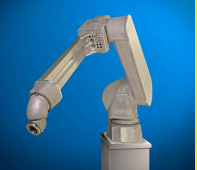 The design of the robot is such that its open architecture allows for the integration of many different standard application packages, or third-party integrated process equipment, into the arm. This includes 2-component integral process control (IPC), 1-component closed loop fluid control, and direct charge waterborne cannister systems. The robots' design offers the flexibility of left hand or right-hand configurations to maintain symmetry within the booth, and there is the option for single or dual integrated process axes. The integrated packages allow for things such as 2-component mixing to be controlled accurately using precision robot motion algorithms, versus third party devices.
This adaptable robot is an industry leader.