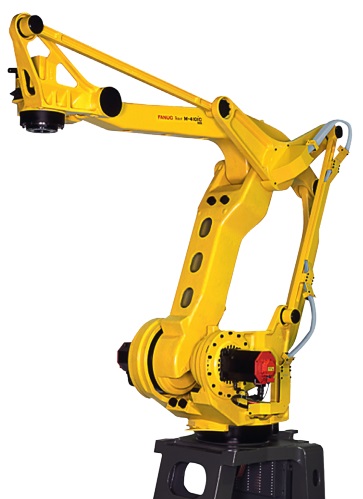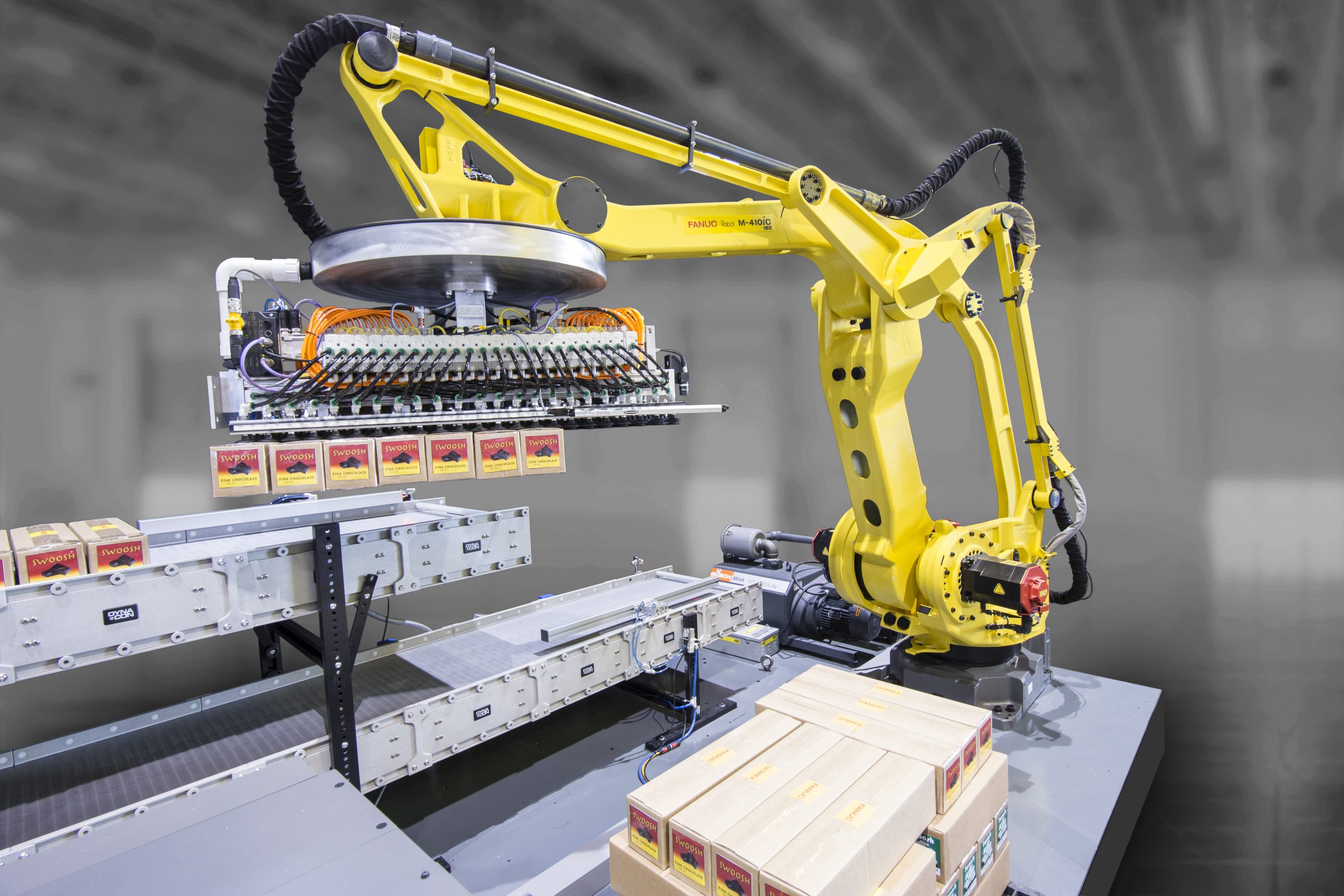 M-410 Series – Improved Throughput in Palletising and Handling Applications
FANUC M-410 Series Robots improve throughput in palletising and handling applications for almost any medium to heavy palletising payload. With a maximum capacity of 700 kg and a maximum reach of 3.1 m, the 4 or 5 axis M-410 parallel link robot series is well suited for handling medium to large loads. FANUC was one of the first robot manufacturers to produce a series of robots exclusively for palletising, and its end-of-line automation solutions are based on years of experience and knowledge.
The FANUC M-410 Series Robots are especially intended to stack pallets up to a height of 2 metres, operating within an optimal work area and benefitting from a high vertical stroke. The integrated base and controller in the pedestal (a non-pedestal version is also available) not only saves floor space, but also facilitates transit and installation.
FANUC M-410 Series Robots offer Rapid Operational Speeds
The FANUC M-410 Series Robots are capable of different palletising configurations. They include a broad vertical work envelope. Both boost palletising operations' throughput. Internal cable routeing via the wrist eliminates cable interference and lengthens cable life.
The FANUC M-410 Series Robots high wrist moments and inertia allow it to handle big grippers and hefty payloads at top speed. The M-410 can also come with a servo hand. This is controlled by a 6-axis servo for more versatility in handling goods of varying sizes.
There is a FANUC M-410 series robot for any palletising duty, with models capable of carrying weights ranging from 140 to 700 kg, whether they are boxes, bags, or concrete slabs.
FANUC M-410 Series Robots Offline Software
Offline, the FANUC PalletPRO simulation software may be used to develop, debug, and test a palletising programme. The data created in PalletPRO may then be transferred to a real robot controller running PalletTool. By modelling your manufacturing environment, simulation software reveals precisely what the M-410 can do for you. Additionally it can show you where you can save money.
ASA is your ideal FANUC industrial and FANUC collaborative robot integrator.  Our engineering team at ASA are FANUC robot specialists, from concept to system designs, installations, programming and support. At Automated Solutions Australia (ASA) we thrive on helping Australian companies of all sizes achieve their automation goals, enabling you to compete on the world stage.  For all your FANUC industrial Robot and FANUC Collaborative Robot needs, Automated Solutions Australia are your Australian industry leading experts.
Whether you are a large or small business, if you think the FANUC M-410 Series Robots might be the right series to automate your manufacturing process, we invite you to contact Automated Solutions Australia to explore the FANUC range today on 1800 ROBOTS (1800 762 687).