FANUC's M2000iA series is the strongest 6 axis robot on the market.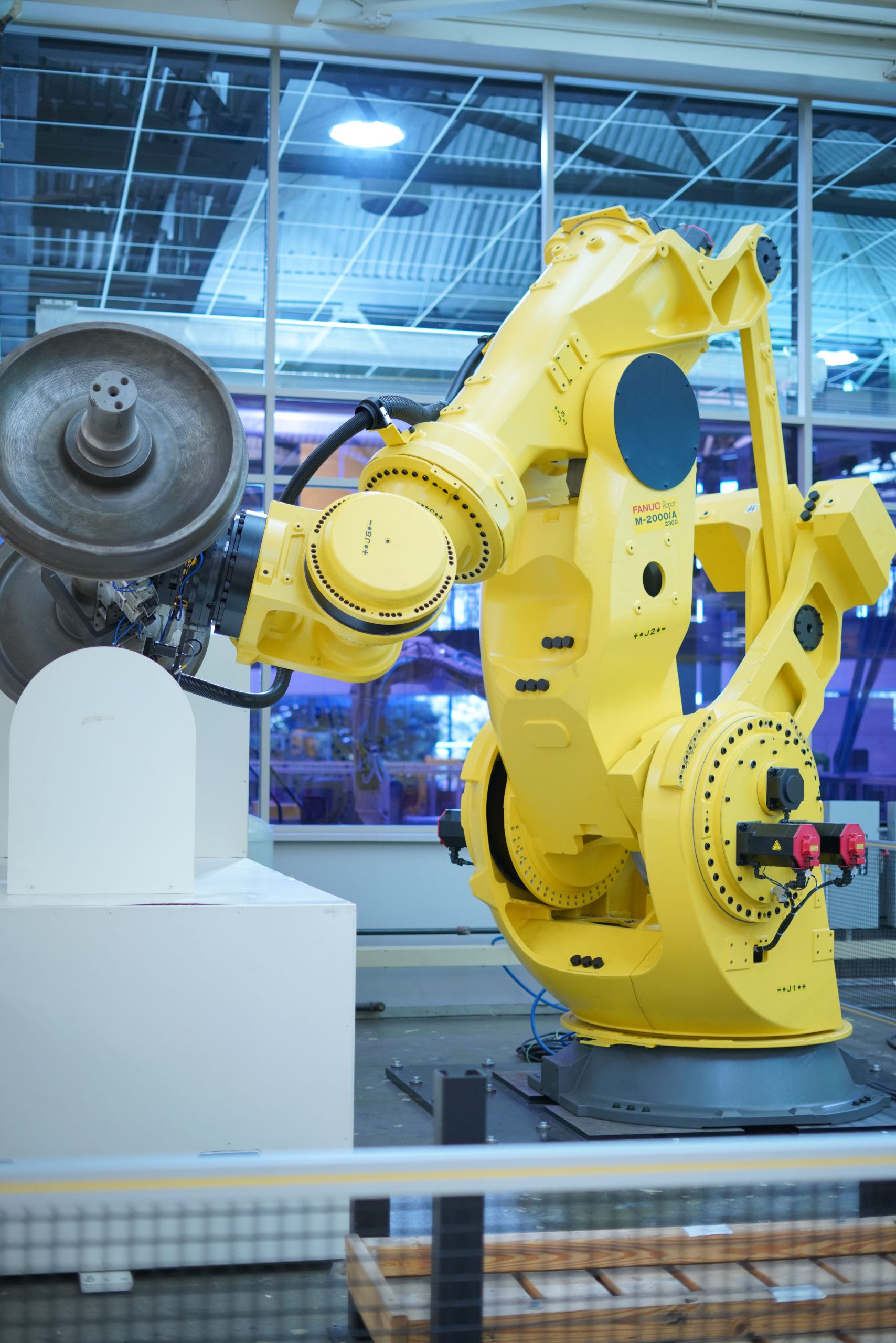 FANUC M-2000iA Series Robots Ultra Heavy Payload
The FANUC M-2000iA Series Robots are the strongest 6 axis robot on the market, with a handling capability of up to 2.3 tonnes and a reach of up to 4.7 m. This makes it perfect for handling and palletising big components. Its vertical 6.2 m lifting stroke and horizontal reach make even the biggest workpieces simple to handle. These heavy-lifting robots are well suited for the automotive and metal industry since they can safely and effectively lift whole automobiles.
The unequalled wrist capacity of the FANUC M-2000iA Series Robots enables them to handle exceptionally large components, such as full automobile chassis and foundry parts. The FANUC M-2000iA is capable of hundreds of hours of continuous hard operation due to purpose-built, high-duty components validated by thorough testing.
FANUC M-2000IA Series Robots Reach as Far as a Crane
The FANUC M-2000iA Series Robots, which have the market's longest reach, can do the tasks of traditional cranes, hoists, and shuttles to enhance production and reduce hazardous human labour.
The FANUC M-2000iA Series Robots are particularly suited for severe operation settings due to their wrist and shoulder-mounted motors that are protected against water and dust by an IP67 designation.
FANUC M-2000iA Series Robots have an Intelligent, Heavy Duty Construction
By smartly locating the wrist motion motors of the M-2000IA on the robot's J3 shoulder, the possibility of damage due to heat or extreme working conditions is eliminated. Excellent air cooling at the wrist motors permits high loads and duty cycles. Moreover, despite the size of this model, tiny areas are easily accessible due to the arm's slender form. FANUC M-2000iA Series Robots are a safe option for heavy-duty applications including dust and water since their wrist units are sealed.
ASA is your ideal FANUC robot integrator.  Our engineering team at ASA are FANUC robot specialists, from concept to system designs, installations, programming and support. At Automated Solutions Australia (ASA) we thrive on helping Australian business of all sizes achieve their automation goals, enabling Australian manufacturers to compete on the world stage.  For all your FANUC industrial Robot and FANUC Collaborative Robot needs, Automated Solutions Australia are your Australian industry leading experts.
Whether you are a large or small manufacturer, if you think the FANUC M-2000iA Series Robots might be the right series to automate your manufacturing process, we invite you to contact Automated Solutions Australia to explore our FANUC range today on 1800 ROBOTS.