The FANUC M10 Series are the class' fastest handling robots, delivering enhanced throughput and optimal cycle times.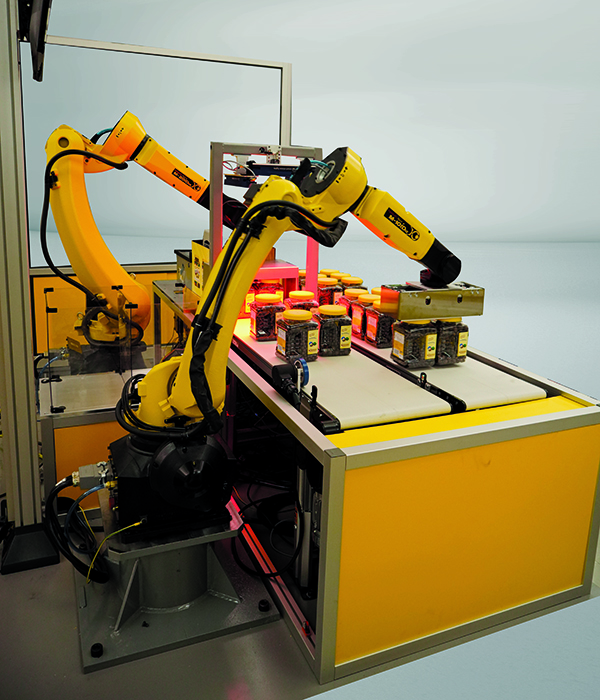 FANUC M10 Robots Are The Class's Fastest Handling Robot
As can be seen in a number of applications, the FANUC M10 Series Robots are the class's fastest handling robots, with enhanced throughput and optimised cycle times across a broad variety of pick, place, and machine tending activities. Further the FANUC M-10 weighs only 130 kg, has a payload of up to 12 kg, and has extremely high axis speeds and acceleration. Thus creating high wrist motions. Generally, even in restricted workspaces, the cable-integrated arm and hollow wrist assembly support make operation simple.
FANUC M10 Series- Experts in Light Payloads
Ultimately the FANUC M-10 Series Robots are the pick-and-place experts for weights up to 12 kg because of their exceptional axis speeds and acceleration. Furthermore, sealed bearings and brushless AC motors don't need any maintenance and protect the machine so it lasts longer and breaks down less.
Additionally the FANUC M-10 Series Robots is intended for simple integration into tiny work cells. Hence they have a short wrist interference radius. While a new mounting option on the J3 arm makes it possible to put end effector control devices close by.
Heavy Duty Wrist:
Due to the FANUC M-10 Series heavy-duty wrists, it can lift up to 12 kg. Thus the FANUC M-10 Series is excellent for loading and unloading activities. Not to mention the hollow or straight wrist provides more strength and stability. Additionally it provides further cable protection, and simple maintenance. While a waterproof IP67 wrist and J4 arm make the FANUC M10 Series perfect for water jet and die-casting applications.
Due to the internal cable routing via the J3 arm and J6 wrist, there is an increase in cable life. Thus stopping cable interference danger. While standard integrated air and electrical services with 8 inputs and 8 outputs are inclusive.
In brief, ASA is your ideal FANUC industrial and FANUC collaborative robot integrator.  Explicitly our industrial engineering team at ASA are FANUC robot specialists. Firstly from concept to system designs and lastly installations, programming and support. Undoubtedly at Automated Solutions Australia (ASA), we thrive on helping Australian businesses of all sizes achieve their automation goals. Thus enabling Australian manufacturers to compete on the world stage.  So for all your FANUC M-10 Series and general industrial Robot needs and FANUC Collaborative Robot needs, Automated Solutions Australia are your Australian industry leading experts. So phone Automated Solutions today, on 1800 ROBOTS.