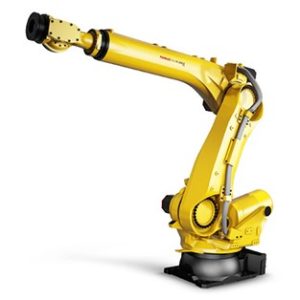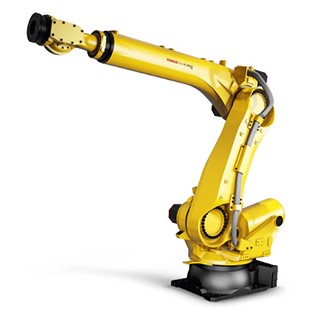 FANUC R-2000iC/210L – Small Footprint, Long Reach
The 6-axis FANUC R-2000iC/210L robot arm has a 210 kg payload and a 3100 mm reach. The FANUC R-2000iC/210L robot has a repeatability of 0.05 mm.
The R-2000iC/210L industrial robot is the successor to the R-2000iB/185L. The robot provides greater stiffness, with an increase in wrist load movement and inertia in addition to lifting an extra 25 kg. Spot welding is one automotive application where the R-2000iC/210L excels. Due to its relatively tiny footprint, it is simple to use in busy production settings. Additive manufacturing, assembly, cutting, dispensing, drilling, engraving, finishing, machining, material handling, palletising, and remote TCP are some of the other common uses for the FANUC R-2000iC/210L.
R-2000 Series General Features
Due to its fast speeds and payloads of 100 to 270 kg, the FANUC R-2000 series is the company's most popular line worldwide. They are ideal for a wide range of tasks requiring big payloads, including spot welding and material handling. There is a robot that will satisfy your needs thanks to the FANUC R-2000 range's numerous possibilities and versions. The fast handling of nearly any gripper or EOAT is made possible by the huge payload capabilities of the FANUC R-2000s, and FANUC offers a variety of upgrade kits that make it simple to tailor them for your specific application.
The FANUC R-2000iC/210L's wrist comes with a typical IP67 rating. These industrial robots can operate in some of the most difficult locations thanks to their dust- and waterproof wrists. You also have the choice to update the robot base, motor, and J1/J2 axes for extreme liquid and dust protection, extending the range of applications for this robot.
Automated Solutions Australia (ASA) is your ideal FANUC industrial and FANUC collaborative robot integrator. Our industrial engineering team at ASA are FANUC robot specialists, from concept to system designs, installations, programming, and support. At Automated Solutions Australia (ASA), we love helping Australian businesses of all sizes reach their automation goals, and build their sovereign capability. This lets Australian manufacturers compete on the world stage. Automated Solutions Australia (ASA) is an industry-leading expert for all your FANUC industrial robot and FANUC collaborative robot needs. Phone Automated Solutions Australia (ASA) today on 1800-ROBOTS (1800-762-687).