At Automated Solutions Australia, we are able to offer the full range of FANUC plastics painting robots.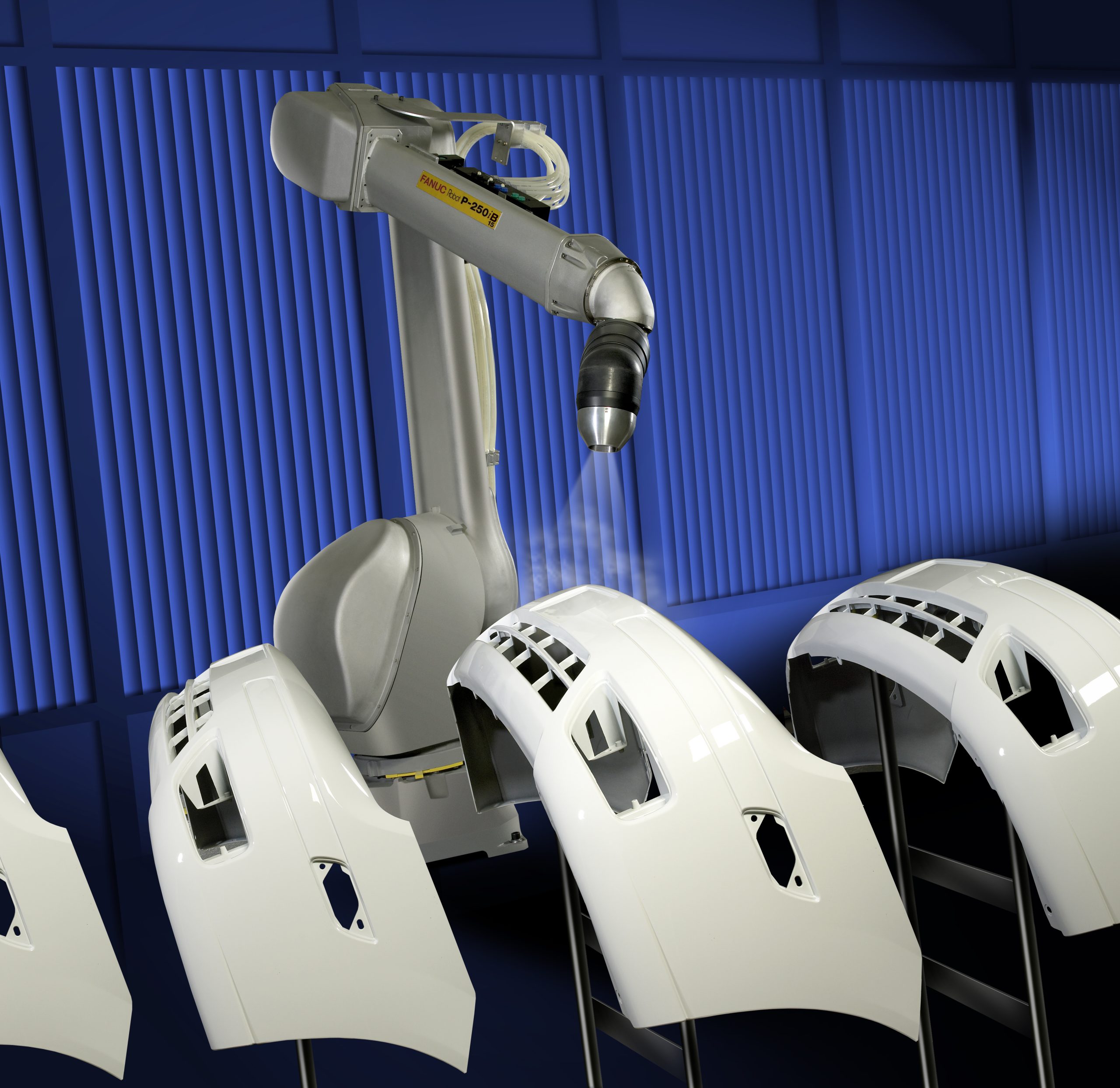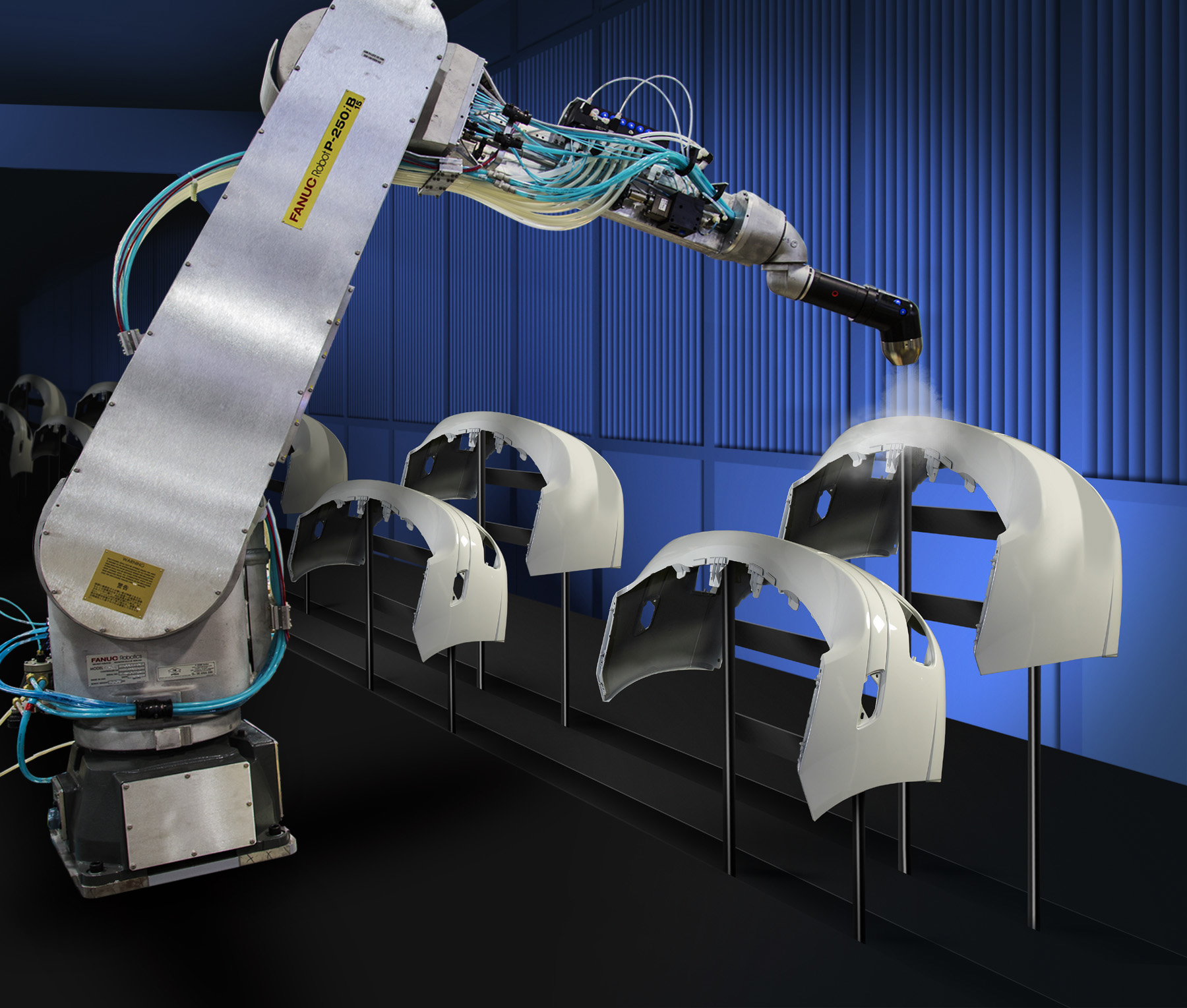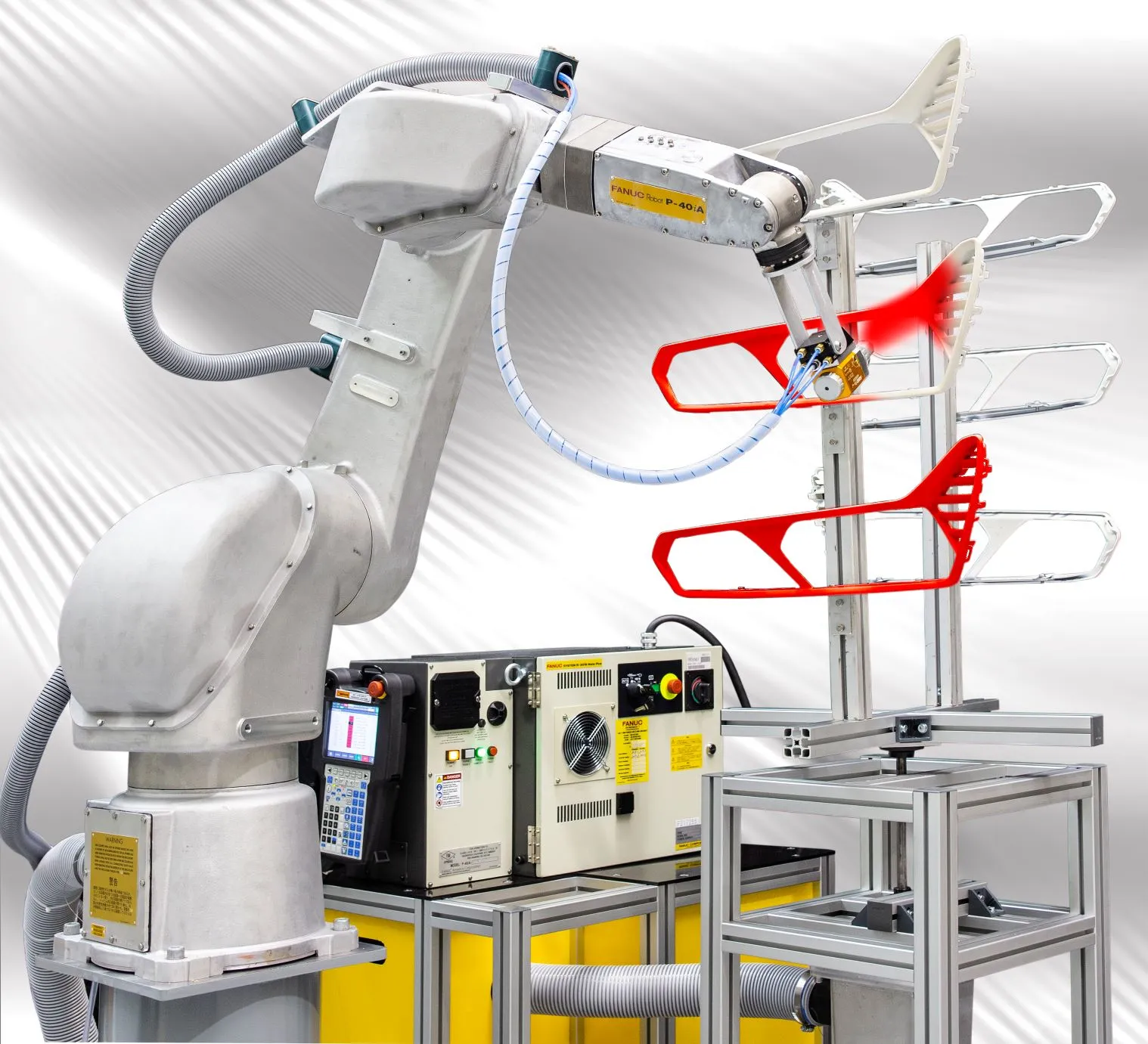 Plastics Painting Robots Overview
Plastics painting has become an incredibly competitive market space, where small-batch painting, and just-in-time delivery, are so important to a company's ongoing success.
Manufacturers can't afford to waste paint through poor transfer efficiency. Plastic painting robots offer a repeatable solution. High-voltage electrostatics deploy, using regular spray guns, or rotary atomisers (known as bells). When these integrate into a plastics painting robot system, they provide extremely high levels of transfer efficiency to the part. It can be over 90%, in some cases. The result is a significant amount of waste reduced at the point source of origin.
Plastics Painting Robots with atomised Isocyanates
FANUC design solvent born, waterborn, 2 and 3 component applications. Due to lower oven cure temperatures, we generally paint plastics with  a 2-component paint (a mix of resin and hardener). The 2-component paints often have an isocyanate component that may be carcinogenic when atomized, providing health and safety concerns for manual operators. A purpose designed plastic painting robot keeps operators away from the atomized isocyanates. In parallel, with the correct path development, the application can have a consistent film thickness. This reduces the excess paint required to meet specifications.
Even More Reasons to Automate With Plastics Painting Robots
Modern plastic painting robot systems far exceed transfer efficiency and material utilisation when compared to traditional spray guns and spray systems. Paint robots are easy to program and the robots deliver the same great finish time after time. You can depend on proven FANUC painting robot technology to increase your competitive advantage.
With Plastic Painting Robots you can expect high equipment uptimes. This includes repeatable and consistent part finish and a stable process. 2-component paints (2K) often contain damaging solvents and isocyanate components that may be harmful when atomised. Plastic painting robots reduce the exposure to your personnel and reduces the OH&S risk to your business.
Atomised solvents found in paint materials can create an explosive environment. FANUC Plastics painting robots are very safe. Designed for dangerous environments that are Class 1, Division 1. A purged air cavity is used to negate the effects of a possible spark, keeping the robot safe. Unfortunately, the purge circuit, crucial to the successful operation of the robot, is not that simple. Power is applied to the servomotors of the plastics painting robot, after the controller activates the purge cycle. This consists of flooding an enclosed, sealed cavity, with clean, dry, compressed air.  There is a flow switch mounted within the cavity that makes contact when this level of airflow has been detected. The controller then requires the contact to be held for a nominal number of minutes.
Further Reasons to Automate
Following the completion of the purge cycle, the system switches to maintenance mode (maintenance of purge). This requires a low-pressure switch, which monitors ambient air, external to the robot, versus internal air. A differential pressure is required to maintain positive pressure, thus ensuring that impure air is kept out of the cavity. The FANUC Plastics painting robots have been designed such that in the event that the maintenance purge is lost, all power is removed from the servomotors, thus avoiding the potential for explosion.
ASA can tailor a solution which meets your needs. The consistent nature of robotic application leads to less warranty recalls, claims and customer rejections. Rework due to manual application error is also not needed, as Paint Robots provide you with total control of your process.
Plastic painting robots have the capacity to alter application parameters on the run, including fan and atomisation air profiles, bell speed, flow rate, electrostatic charge and angle of attack, depending on the configuration of the unit. This gives the application the best possible chance of optimising film build and visual appearance.
Whether you are a large or small company, if you looking at robotic plastic painting for your manufacturing process, we invite you to contact Automated Solutions Australia to explore the FANUC range today on 1800 ROBOTS. Our engineering team at ASA are FANUC robot specialists, from concept to system designs, installations, programming and support. At Automated Solutions Australia (ASA) we thrive on helping Australian business of all sizes achieve their automation goals, enabling you to compete on the world stage.  For all your industrial plastic painting needs, Automated Solutions Australia are your industry leading experts.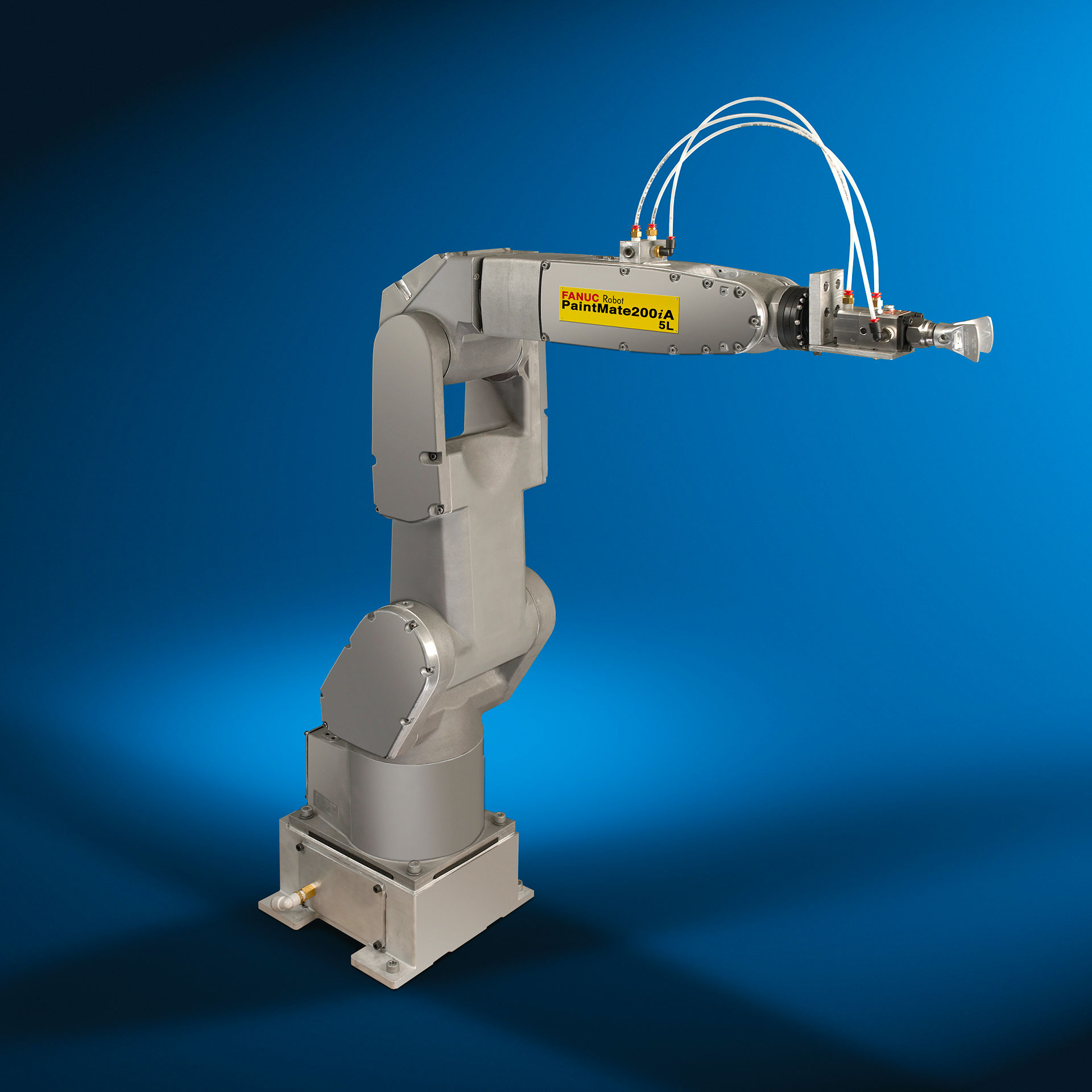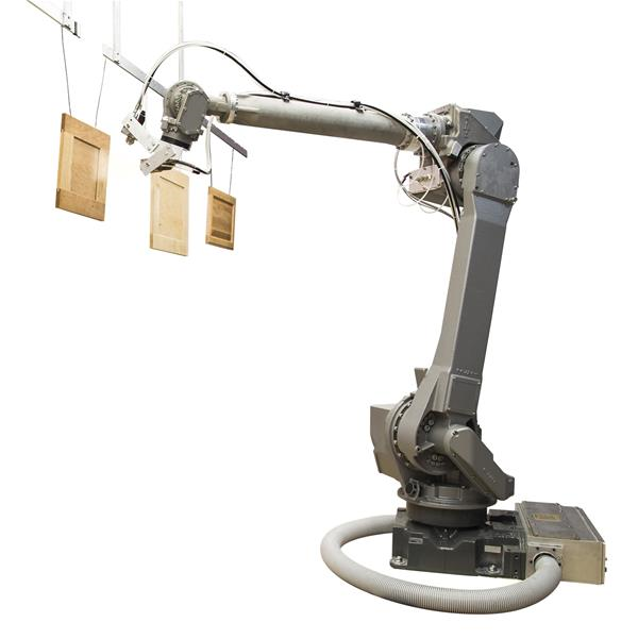 Plastics Painting Robots:
[/vc_column]
Click an Application to Explore Further:
 FANUC Paint Finishing,  Welding,  Palletising Robots,  Machine Tool Tending,  Robotic Vision Inspection Systems,   Plastics Painting,  Materials Handling Applications, Deburring and Polishing,  Fibreglass and Gelcoat Robots, Sealing and Dispensing,  Picking and Packaging,  Material Removal,  Shot Blasting and Peening