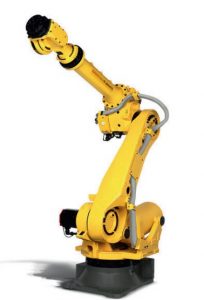 FANUC R2000iC/165F Specific Features
The FANUC R-2000iC/165F is a floor mounted, heavy-duty robot capable of performing tasks with ease. It is suited to tasks such as arc or spot welding, parts transfer, material handling, assembly and much more. The FANUC R-2000iC/165F is one of FANUC's most versatile models.
The FANUC R-2000iC/165F has a slim wrist, rigid arm, 6 controllable axis with a reach of 2655mm. The slim wrist and body design of the FANUC R-2000iC/165F allows for a wide range of applications in setups that are restricted by space or where multiple robots are working in close proximity
FANUC R2000iC/165F General Features
The FANUC R-2000 series is FANUC's most popular range in the world thanks to its high speeds and payloads of 100kg to 270kg. They are perfect for any number of applications that have heavy payloads such as material handling and spot welding. The various options within the FANUC R-2000 range ensure there's a robot that will meet your requirements. The heavy payload capacities the FANUC R-2000's are capable of means that they can handle almost any gripper or EOAT at speed and FANUC offers a range of upgrade kits that allows easy customisation for your particular application.
The wrist of the FANUC R2000iC/165F has an IP67 rating as standard. Having a dust and waterproof wrist allows these industrial robots to work in some of the harshest of environments. It also comes with the option to upgrade the robot base, drivetrain and J1/J2 axes for severe dust and liquid protection, allowing you to push the limits of where this robot is used.
The FANUC R2000iC/165F has been designed to have as few mechanical components as possible to minimise areas of failure, so you have less production downtime. This also results in minimising your spare parts requirements.
As standard, the FANUC R2000iC/165F have integrated air (x2) and electrical services (x8) with inputs at the base and outputs on the upper arm, as well as PROFIBUS terminals for simple connection to various EOAT. This minimises cabling requirements, reducing interference with the workpiece or other objects in the robotic cell.
Automated Solutions Australia (ASA) is your ideal FANUC industrial and FANUC collaborative robot integrator. Our industrial engineering team at ASA are FANUC robot specialists, from concept to system designs, installations, programming, and support. At Automated Solutions Australia (ASA), we love helping Australian businesses of all sizes reach their automation goals, and build their sovereign capability. This lets Australian manufacturers compete on the world stage. Automated Solutions Australia (ASA) is an industry-leading expert for all your FANUC industrial robot and FANUC collaborative robot needs. Phone Automated Solutions Australia (ASA) today on 1800-ROBOTS (1800-762-687).
Delivering exceptional cycle time speeds combined with its heavy payload capacity the FANUC R-2000iC/165F offers unmatched versatility and reliability allowing you to get the most use out of your robot. Get in contact with one of our expert staff today to find out if the FANUC R-2000iC/165F is right for your application.