FANUC's ARC Mate Series welding robots are the result of decades of expertise in robotics and welding.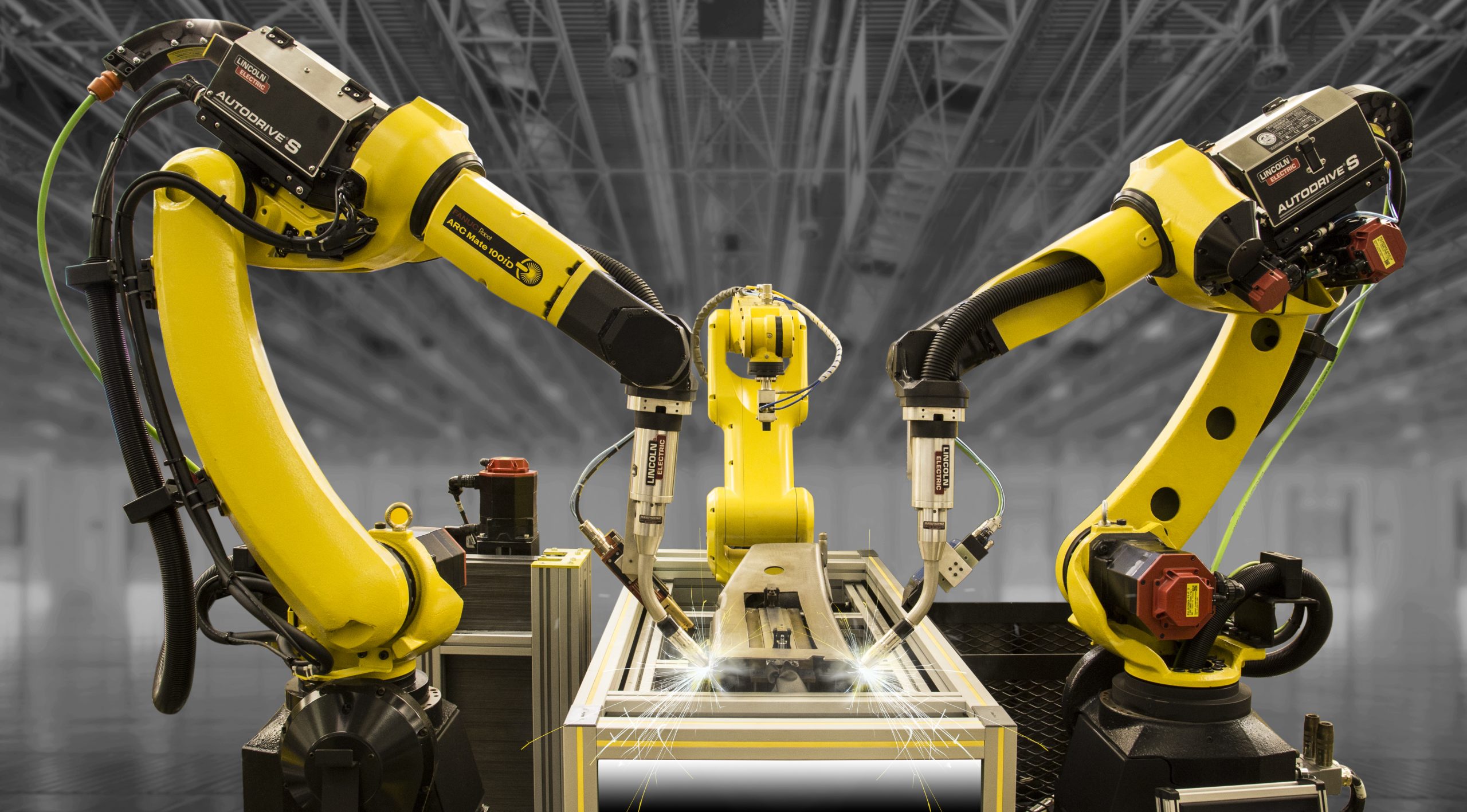 Designed Specifically for Arc Welding Applications
The FANUC ARC Mate Series has robots with payloads of up to 20 kg and a reach of up to 2.0m. So they are ideal for a vast array of arc welding, laser welding, soldering, and cutting applications. Additionally, FANUC has created a range of tools to expand the  the FANUC ARC Mate Series capabiltiies. Therefore operations are more productive and profitable for the end user.
FANUC ARC Mate Series Welding Robots for Collaborative Arc Welding
FANUC's collaborative arc welding robots are based on FANUC's existing industry-leading ARC Mate robot family. Thus the arc welding cobots, including the brand new FANUC CRX, come with FANUC's tried-and-true, simple ARC Tool Software. Overall this is intended to increase profit by lowering programming time. In short, the simple to program interface enables basic applications, but also allows access to FANUC's sophisticated capabilities. e.g. Weaving, iRVision, Seam Tracking, TAST and Multi-pass.
Industrial Robots Provide Precision and Consistency for all Arc Welding Applications.
Due to their slender arms and hollow wrists, FANUC ARC Mate Series welding robots are able to enter even the most confined locations. Thus managing incredibly heavy loads. Most important is that FANUC robots are the result of years of robotics and arc welding expertise. In any case they are appropriate for a variety of industrial arc welding operations, including laser welding, soldering, and cutting. Furthermore different versions are available to fulfil a range of needs. In addition they all have a number of accessories to enhance their flexibility and make arc welding procedures safer and more effective.
The slender wrist design of FANUC ARC Mate Series make this robot appropriate for use in a variety of industries. Generally they are used widely in the automobile industry, particularly Tier 1 and Original Equipment Manufacturers (OEM's) for welding seats, axles, and other components.
FANUC ARC Mate Series Continued
The hollow wrist of FANUC ARC Mate Series welding robots gives access to tight locations. Thus reducing costs by lowering welding cable wear and tear. Additionally programming offline makes it simpler to anticipate interference difficulties that may arise during the welding process.
Use of FANUC's iRTorchmate reduces downtime by eliminating time-consuming route re-teaching caused by torch or wire deviations following collisions. So this technology is offered in both tactile and iRVision-based approaches to meet the needs of any application.
In brief, ASA is your ideal FANUC industrial and FANUC collaborative robot integrator.  Explicitly our industrial engineering team at ASA are FANUC robot specialists. Firstly from concept to system designs and lastly installations, programming and support. Undoubtedly at Automated Solutions Australia (ASA), we thrive on helping Australian businesses of all sizes achieve their automation goals. Thus enabling Australian manufacturers to compete on the world stage.  So for all your industrial Robot and FANUC Collaborative Robot needs, Automated Solutions Australia are your Australian industry leading experts. So phone Automated Solutions today, on 1800 ROBOTS.
ASA is your ideal FANUC Robot integrator. Presently our communication lines are open 24/7, ready to assist you in any way we can. So contact us for more information.