The FANUC M20 Series Robots are for Medium Payload Material Handling.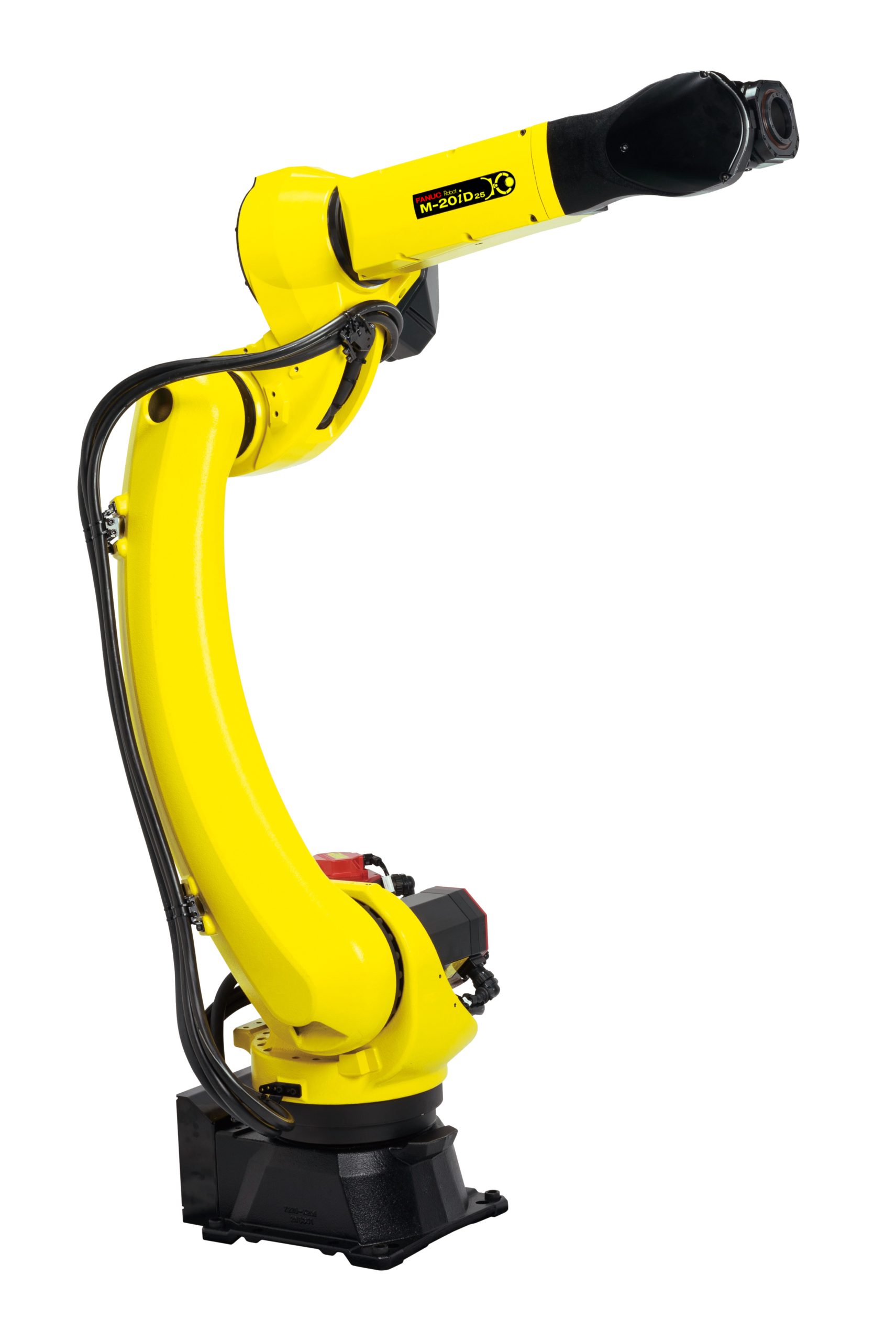 FANUC M20 Series Robots Lead the Market in Payload, Reach, and Speed
The FANUC M-20 Series Robots are the market leaders in payload, reach, and axis speed. Subsequently it has a maximum reach of 2 metres and the ability to lift to 35 kilograms. In addition, the excellent design of this 6-axis machine includes the advantages of a hollow upper arm without sacrificing performance. Thus these robots are a great choice for medium-payload tasks like moving and handling materials.
FANUC M20 Series Robots Offer Enhanced Functionality
Firstly, the FANUC M-20 Series Robots' intentional design simply enhances robot functionality. Although dress-out concerns like snagging, ripping, and rubbing are no longer an issue since all utilities are neatly contained inside the sleeve. Thus this series is deal for materials handling. So the FANUC M20 is an excellent option for medium-payload activities.
In general FANUC M20 Series Robots are well-suited for narrow cells. Due to their slim arm, wrist, and small footprint. In addition the internal cable routing essentially eliminates cable interference. Furthermore a new mounting option on the J3 arm makes it possible to put the end effector and control devices close together.
Explicitly at ASA we deal in FANUC robots. While using cutting-edge servo technology, the FANUC M20 Series Robot's quicker pick and place cycles boost throughput for weights up to 35 kg. Additionally, high wrist moments and inertia make it possible to manipulate bigger grippers and larger weights.
Since these FANUC robots have a hollow or straight wrist and cantilevered J3 arm, they have increased strength and stability. Furthermore the FANUC M-20 Series Robots have enhanced cable protection and simple maintenance.
In brief, ASA is your ideal FANUC industrial and FANUC collaborative robot integrator.  Explicitly our industrial engineering team at ASA are FANUC robot specialists. Firstly from concept to system designs and lastly installations, programming and support. Undoubtedly at Automated Solutions Australia (ASA), we thrive on helping Australian businesses of all sizes achieve their automation goals. Thus enabling Australian manufacturers to compete on the world stage.  So for all your FANUC M-10 Series and general industrial Robot needs and FANUC Collaborative Robot needs, Automated Solutions Australia are your Australian industry leading experts. So phone Automated Solutions today, on 1800 ROBOTS.
For the latest M-20 Series News, click here.