The FANUC LR Mate Robot Series of human-arm-sized robots is the most compact option for quickly manipulating and processing up to 14 kg items in a variety of industries.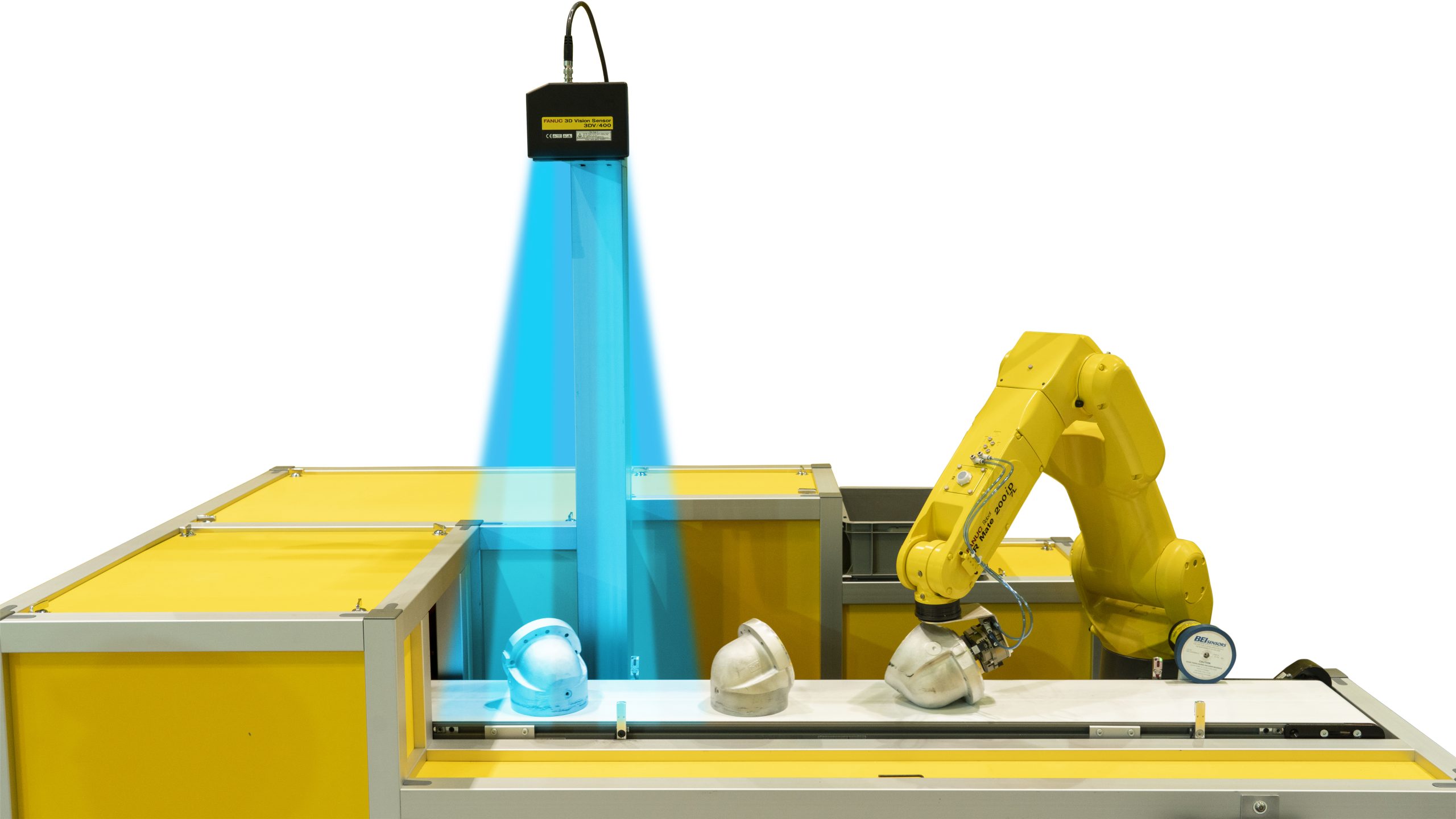 FANUC LR Mate Series Robots – Tabletop Robot with a Small Payload
The FANUC LR Mate Series Robots range from a maximum payload of 4 kg to 14 kg. Furthermore they vary in reach from 550 mm on the short arm variant (/S), to 717 mm on the standard model. Comparatively, they can reach 919 mm on the long arm variant (/L). While the series is available in a variety of types. Explicitly speaking there are clean room (/C), high speed (/H) and wash-proof (/WP) variants. In addition they come with varying reaches and wrist speeds to fit your specific needs. Generally these tabletop robots with modest payloads may be outfitted with a variety of intelligence characteristics. Specifically including robot vision and force sensing. Further enhancing precision and productivity.
FANUC LR Mate Series Robots are Adaptable, Strong and Fast.
Regardless of size, the FANUC LR Mate Series Robots easily adapt to any circumstance.Surprisingly mounting options for this small, multifunctional robot include floor, ceiling, wall, and angle. In addition you can even integrate it directly into your machine tool. Because of its compact design and sealed mechanical units (IP67). Consequently, the possibilities are endless, as the mounting options allow for more flexible cell designs. Thus they allow for a more robust work envelope, and the ability to run multiple robots in close proximity.
Models from the series are available with a maximum reach of 911 mm on the long arm (/L) variant. Altogether they allow for a maximum payload capacity of 14 kg on the /14L variant, and wrist speeds of  up to 1500 °/sec on the /H high speed variant. Although these features mean that FANUC LR Mate Series Robots have increased flexibility to ensure that cycle times are minimised, the design of the unit additionally promotes connectors on the J3 axis for system adaptability, internal cable routing, performance and dependability.
FANUC LR Mate Series Robots increase Throughput and Flip Over Capable
This FANUC series robust servo motors and very stiff arm enable fast acceleration and quick cycle times. Thus resulting in increased production rates for users. So robot connections supplied on the bottom of axis 1 guarantee minimum interference with peripheral equipmen. Therefore the FANUC LR Mate Series Robots are designed to save time.
With unique flip over capabilities the FANUC LR Mate Series Robots are the answer to a number of problems. Firstly shorter cycle times, further flexible cell designs, a complete work envelope and inverted mounting. Lastly the flexibility to operate many robots in close proximity.
ASA is your ideal FANUC collaborative robot and industrial robot integrator. Furthermore, our team at ASA are FANUC robot specialists, from concept to system designs, installations, programming and support. Evidently Automated Solutions Australia (ASA) thrive on helping Australian business of all sizes achieve their automation goals. Additionally this helps Australian companies to compete on the world stage.  Undoubtedly for FANUC integration, Automated Solutions Australia are your Australian industry leading experts. So contact us today!
 Presently our communication lines are open 24/7, ready to assist you in any way we can.
For the latest News on the LR Mate Series of robots, click here.