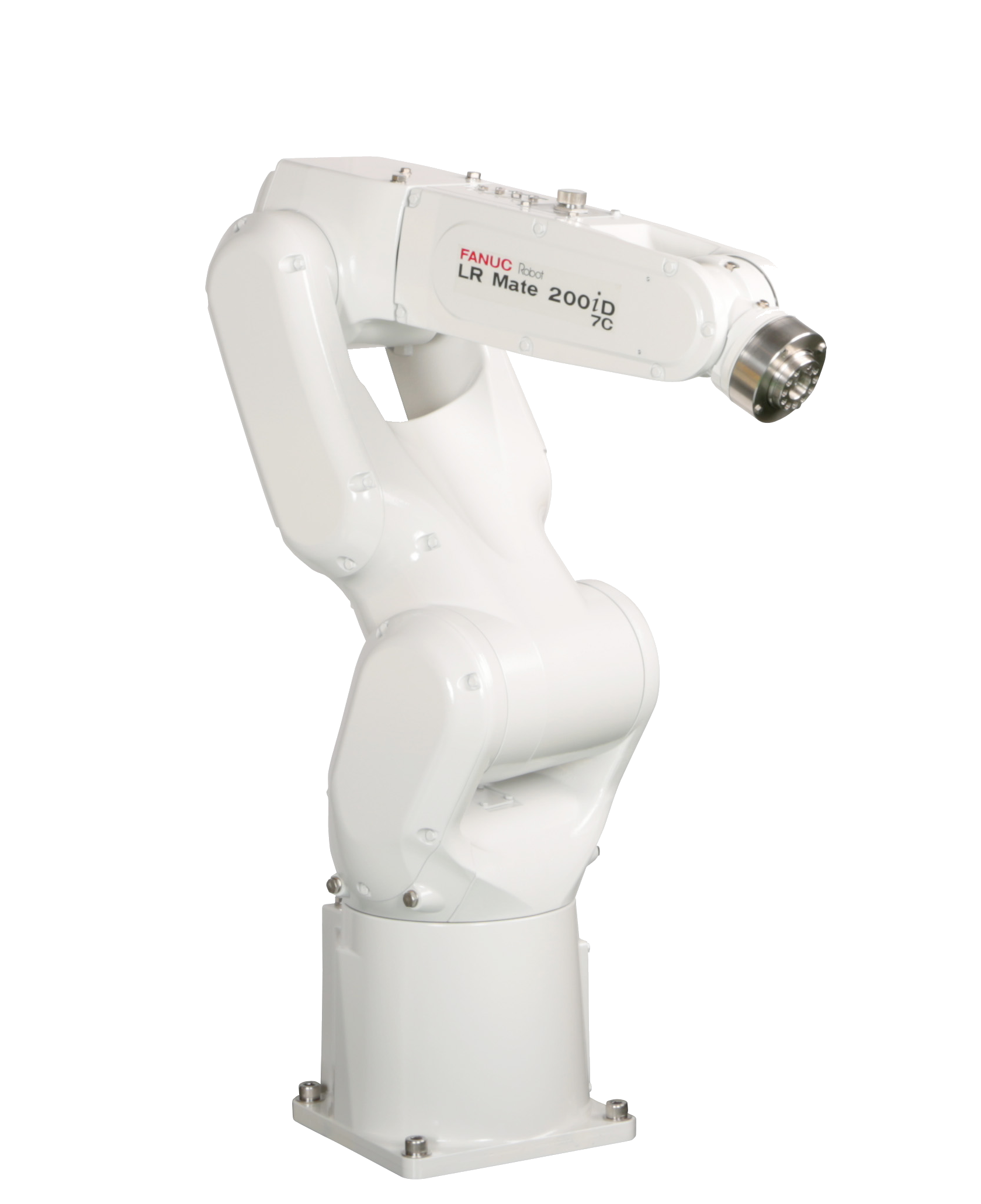 FANUC LR Mate 200iD/7C Clean Room Robot
The FANUC LR Mate 200iD/7C is a 6-axis robot built for operation in clean room environments where contamination must be avoided. The robot is capable highly accurate motion, highlighting its capabilties in applications such as food handling. Additionally, it benefits the manufacturing of sensitive equipment such as semi conductors or electrical equipment sensitive to electrostatic discharge. To meet clean room requirements, the robot mechanical units are all rated to IP67, with the option of using an IP69K where required.
The FANUC LR Mate 200iD/7C has a larger reach and higher payload capacity than its junior counterpart. This allows for a greater work envelope and larger workpieces. It has a reach of 717 mm and a maximum wrist payload of 7 kg. Additionally, there is a long arm clean room variant available, with 911 mm of reach. The FANUC LR Mate 200iD/7C robot can be mounted in a variety of ways based on the application.
Applications of the FANUC LR Mate 200iD/7C
This robot is the ideal option for complex tasks in sanitary and controlled environments. Common applications include:
Assembly – It is ideal for complicated clean room tasks, such as locating components on a circuit board or constructing medical devices.
Picking/Packing – It can be applied in food and beverage facilities to move, sort and pack the goods hygienically. The high payload of the robot facilitates the handling of larger items, or groups of items, to increase production efficiency.
Automated Solutions Australia has decades of experience integrating FANUC robots to suit your needs. ASA is able to manage your project from start to finish including design, programming, installation, commissioning and servicing. Contact the friendly team at ASA today to discuss how this robot from the LR Mate range may be the best solution for company.
This robot is the perfect option for automating production where sanitary operation, particle fall out, and prevention of electrostatic discharge is critical. Contact ASA today to find how this robot can work for you.