Automated Solutions Australia are able to offer a range of Standard and Collaborative FANUC robots available for Machine Tool Tending.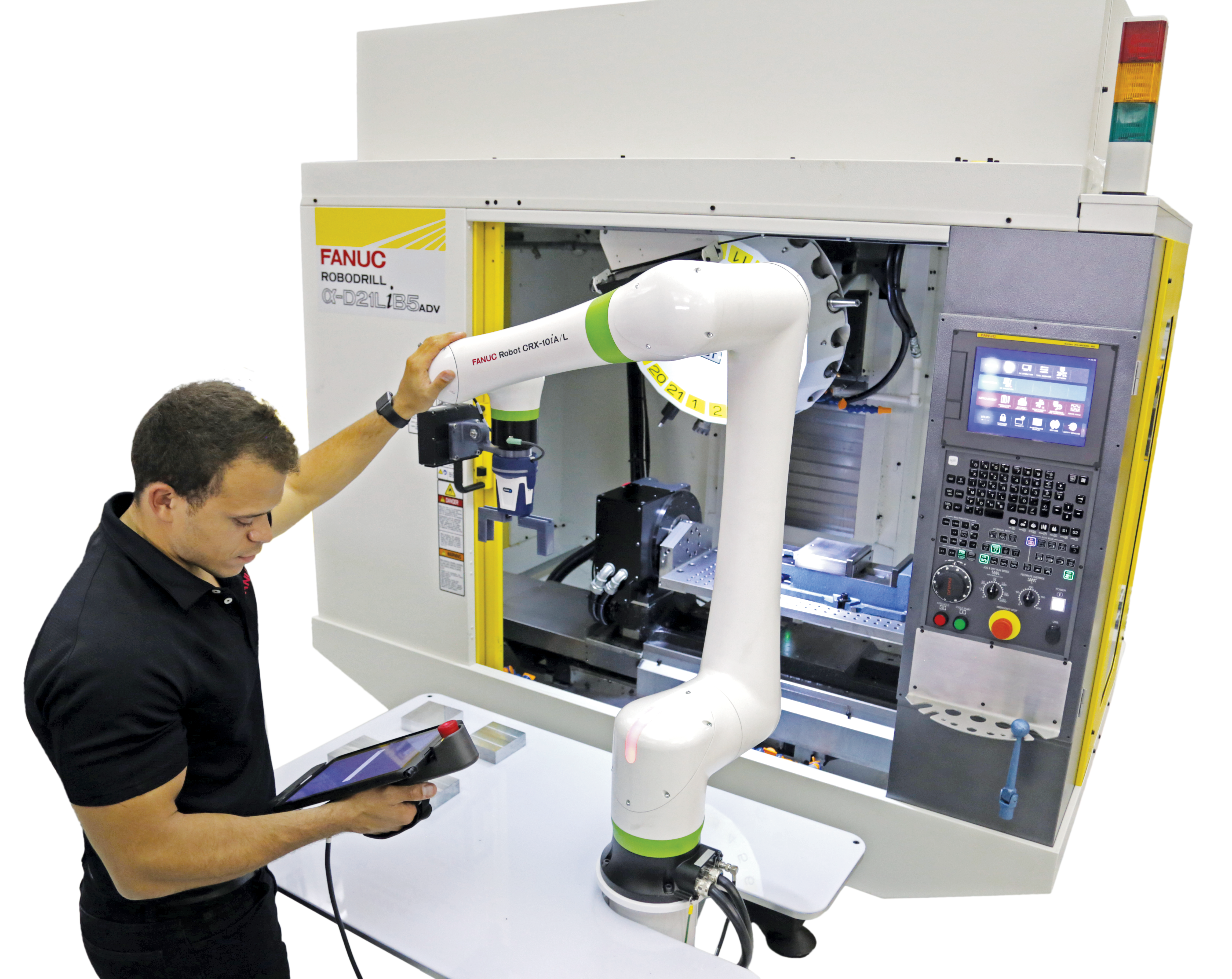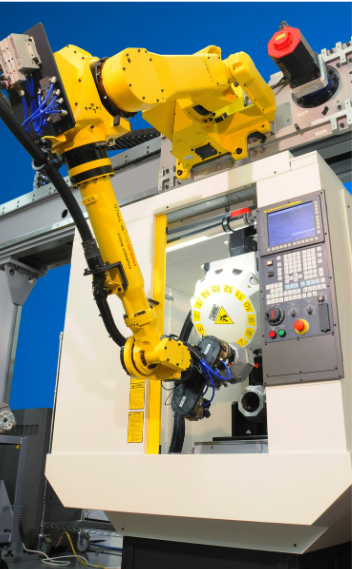 Machine Tool Tending Robot Overview
Common machine tool tending robot applications include lathe and milling machine load and unload, moulding machine top loading, and press tending. The design concept in these applications is to maximise the uptime of the primary machine tool. This is achievable by several mechanisms, namely minimising the unload and load task, and lengthening the available hours of operation. Automated machine tool tending offers the benefits of minimising the cycle time associated with the removal of a part, and insertion of a new one, across the full 24 hours in a day. Automated machine tool tending can be done with minimal errors, especially when it is integrated with an off-the-shelf vision system. Automation provides faster load and unload speeds, meaning performance improvements in throughput, and increased uptime. Additionally, larger parts can present occupational health and safety issues, which can also be avoided by using an automated approach to load and unload.
Where required, robots can tend to multiple machine tools with the addition of robot rails, furthering their flexibility. Changeover grippers in the design also allow for the robot to handle a range of parts, as well as a significant change between pre-machined parts and machined parts, without the need for operator intervention.
Specialised software has been designed and developed in-house for "batch of one" processing, which allows jobbing shops to enjoy the benefits of robotic machine tool tending, previously only enjoyed by volume production run manufacturers. Automated Solutions Australia (ASA) can offer standard or custom machine tool automation interfaces, as well as complete machine control and operator safety solutions for your machine tending challenges.
Any moment a machine sits idle, or an operator is unable to maintain it, productivity and money are lost. The robots and software from FANUC make it simple to connect the equipment and increase output/overall equipment efficiency.
Other advantages of robotic machine tool tending include:
Increase adaptability versus fixed automation
Maximize throughput with increased speeds and efficiency
Improve system availability
Capability to maintain several machines
Reduced operating expenses
Improve quality
Capability to do supplementary procedures
Benefits of Machine Load/Unload Robots
 Increase overall equipment effectiveness by assigning your machine tool tending robot to secondary chores while the machine is in operation. Robotic machine tool tending increases the total equipment efficacy. You may use your robot for a variety of other cell-related operations, including as deburring, cleaning, quality control, specification checks, gauging, and surface vision inspections, while the machine is in operation. In order to increase production time and handle operations requiring many processes, robots are able to rapidly swap out their grippers.
With a variety of rail, floor, wall, and ceiling mounting options to conserve space and increase your robot's work environment, FANUC robots are excellent for machine tool tending of multiple robots, therefore boosting your throughput and production time.
How can Automated Solutions Australia Help?
Automated Solutions Australia (ASA) is your ideal FANUC industrial and FANUC collaborative robot integrator. Our industrial engineering team at ASA are FANUC robot specialists, from concept to system designs, installations, programming, and support. At Automated Solutions Australia (ASA), we love helping Australian businesses of all sizes reach their automation goals, and build their sovereign capability. This lets Australian manufacturers compete on the world stage. Automated Solutions Australia (ASA) is an industry-leading expert for all your FANUC industrial robot and FANUC collaborative robot needs. Phone Automated Solutions Australia (ASA) today on 1800-ROBOTS (1800-762-687).
Whether you are a large or small manufacturer, if you are looking at machine tool tending for your manufacturing process, we invite you to contact Automated Solutions Australia to explore the FANUC range today on 1800 ROBOTS (1800 762 687).