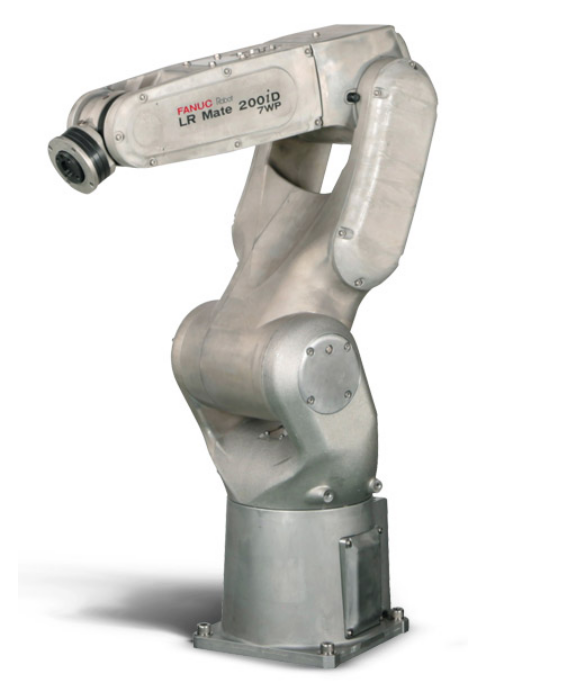 FANUC LR Mate 200iD/7WP Wash Proof Robot
The FANUC LR Mate 200iD/7WP is a multi-purpose 6-axis robot designed to operate in wet environments. The unit is die cast and fully sealed, with IP67 rating and the option to upgrade to IP69K where high pressure cleaning is required. As such the FANUC LR Mate 200iD/7WP is suitable for use in precision and high-pressure washing applications.
Its reach is 717 mm with a maximum wrist payload of 7 kg. The robot can be mounted in a variety of configurations based on the application, including floor-mount, mounted upside-down on the ceiling or angle-mounted.
Applications of the FANUC LR Mate 200iD/7WP
The FANUC LR Mate 200iD/7WP is the ideally suited to harsh environments involving water and dust. Common applications include:
Material removal – It operates in harsh environments makes it ideal for a range of material removal applications where dust is present. The robot is also able to operate with oil spray that may occur from cutting lubricants. This allows it to effectively perform tasks such as drilling, grinding and polishing without being impacted by the harsh environment.
Washing – This robot from the LR Mate series, can be used to wash parts and equipment accurately and efficiently with high-pressure water.
Automated Solutions Australia has decades of experience integrating FANUC robots to suit our customer's needs. ASA can manage your project from start to finish, including system specification, design, programming, installation, commissioning, and servicing. Contact the friendly team at ASA today to discuss how the FANUC LR Mate 200iD/7WP robot can transform your production processes.
This FANUC robot is the ideal choice for automating complex processes in wet and dusty environments. Contact ASA today to find how this robot can work for you.