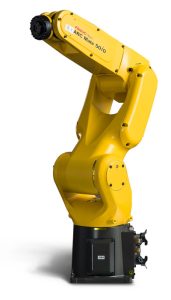 FANUC ARC Mate 50iD/7L- Versatile Space Saver
The ARC Mate 50id/7L forms part of the latest generation of tabletop arc welding robots. This tough 6 axis robot, with a reach of 911mm and a payload of 7kg, will meet high quality standards in even the most difficult working conditions. The work envelope is maximised by optimising stroke and reach, as well as the capability for it to flip over backwards. The FANUC ARC Mate 50iD/7L is therefore the ideal welding option for situations requiring high throughput within limited space. The durable, IP67-rated wrist guarantees that the robot performs reliably, even in the harshest manufacturing environments. It's also durable in wet and dusty environments and is pressure resistant.
FANUC ARC Mate 50iD/7L- Advanced welding technology
FANUC's ARC Mate series welding robots were created specifically with arc welding in mind and are the result of years of robotics and welding expertise. Arc welding, laser welding, soldering, and cutting are all applications of the ARC Mate 50iD/7L. The robot assists manufacturers in boosting production, improving quality, reducing manufacturing costs, and improving worker safety. FANUC's advanced robotic welding technology gives you the confidence to automate even the most difficult welding jobs. With the support of Automated Solutions Australia, we can determine arc welding process solutions that will help manufacturers compete in today's global market.
Automated Solutions Australia has decades of experience integrating FANUC robots tailored to our customer's needs. ASA can manage your project from start to finish, including system specification, design, programming, installation, commissioning, and servicing. Contact our expert team at ASA today to discuss how FANUC's ARC Mate 50iD/7L can help transform your production processes.Whether you are a large or small manufacturer, if you are looking at a welding robot for your manufacturing process, we invite you to contact Automated Solutions Australia to explore the FANUC range today. Our industrial engineering team at ASA are FANUC robot specialists, from concept to system designs, installations, programming and support. At Automated Solutions Australia (ASA) we thrive on helping business of all sizes achieve their automation goals, enabling manufacturers to compete on the world stage while building sovereign capability. Call us now on 1800 ROBOTS (1800 762 687).
A tough all-rounder with an extended reach, the FANUC ARC Mate 50iD/7L whilst compact, maintains high quality standards. It's a solution to your arc welding needs.