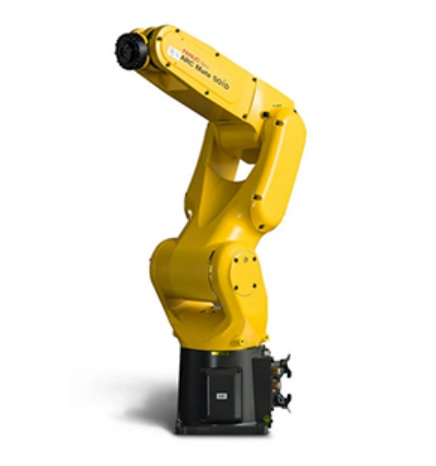 FANUC ARC Mate 50iD- Reliable Harsh Work Environment Specialist
The FANUC ARC Mate 50iD is a new generation tabletop arc welding robot. This sturdy all-rounder features 6 axis of motion, with a 717mm reach and payload of 8kg. This robot is highly capable of meets high quality requirements in harsh working environments. Even in the roughest manufacturing settings, the rugged, IP67-rated wrist design ensures the robot operates reliably. It's also an ideal choice for moist or dusty environments and is also pressure resistant. It boasts the best repeatability in its class, at an incredible ± 0.018 mm. The FANUC ARC Mate 50iD is therefore the perfect welding solution for applications where space is limited and high throughput is required.
FANUC ARC Mate 50iD- Your Arc Welding Solution
The FANUC ARC Mate 50iD robot allows manufacturers to increase productivity, enhance quality, save manufacturing costs, and increase worker safety. FANUC'S sophisticated robotic welding technology, along with the knowledge and skill that each ARC Mate weld robot is backed by, provides you the confidence to automate even the most challenging welding projects. With the support of Automated Solutions Australia, manufacturers will find arc welding process solutions that will help them compete in today's global market.
Automated Solutions Australia has decades of experience integrating FANUC robots to suit our customer's needs. ASA can manage your project from start to finish, including system specification, design, programming, installation, commissioning, and servicing. Contact our expert team at ASA today to discuss how our FANUC ARC Mate 50iD can help transform your production processes.Whether you are a large or small manufacturer, we invite you to contact Automated Solutions Australia to explore the FANUC range today. Our industrial engineering team at ASA are FANUC robot specialists, from concept to system designs, installations, programming and support. At Automated Solutions Australia (ASA) we thrive on helping business of all sizes achieve their automation goals, enabling manufacturers to compete on the world stage while building sovereign capability. Call us now on 1800 ROBOTS (1800 762 687).
Light and compact, the FANUC ARC Mate 50iD is the perfect solution to increasing high quality productivity, no matter the working conditions.