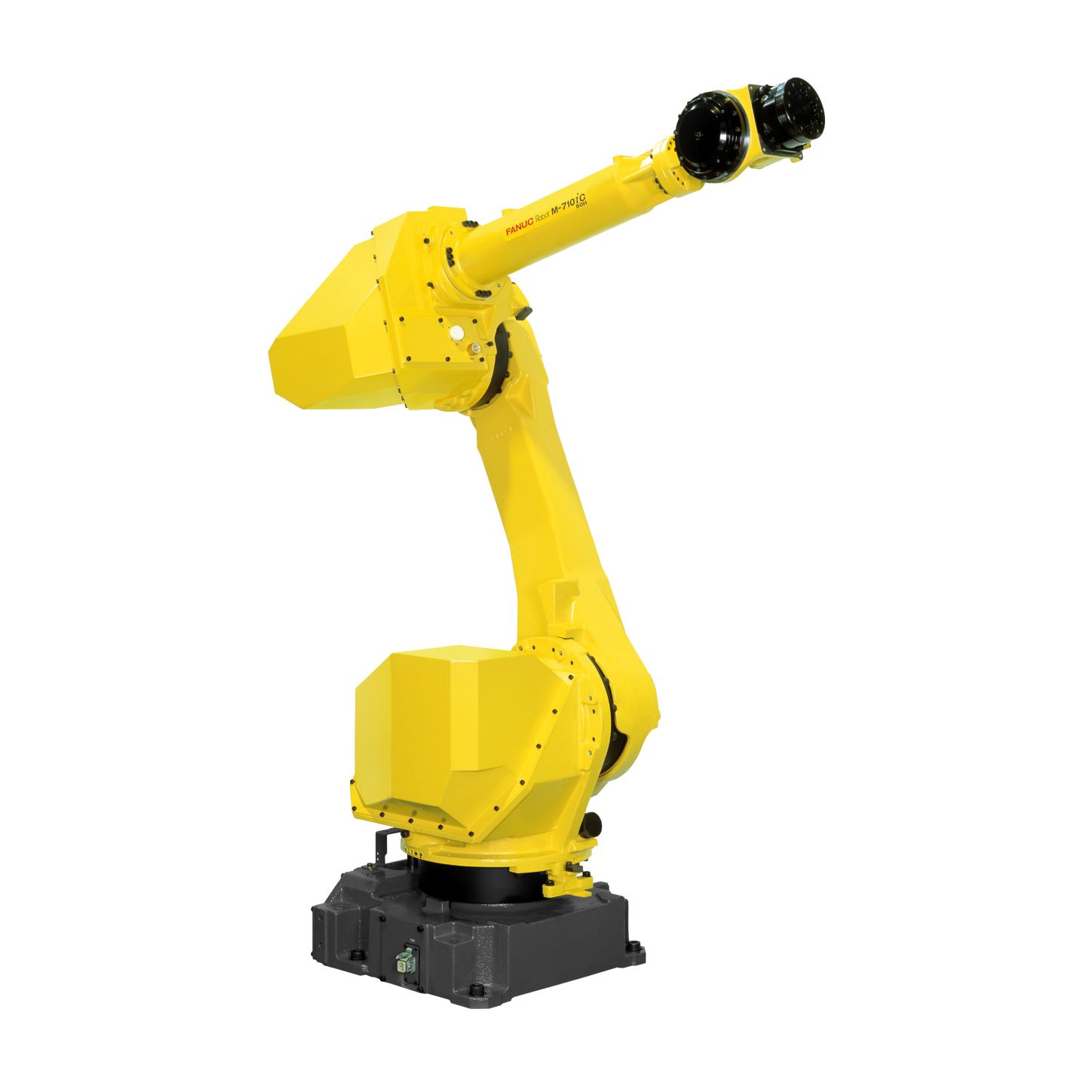 FANUC M-710iC/50H Lightweight Multipurpose Robot
The FANUC M-710iC/50H is a high (/H) speed robot that has a small wrist, robust arm, and a tiny footprint for a 50 kg payload robot. The high axis speeds and 5-axis architecture make it perfect for robotic packaging and robotic palletising applications. It boasts best payload and interia in its class, making it a palletising work horse.
FANUC M-710iC/50H Applications 
Assembly
Load/Transfer
Dispensing
Spot Welding
FANUC M-710iC/50H Features
With the highest payload and best inertia in its class, the FANUC M-710iC/50H is ideal for carrying medium weights. Large workpieces such as glass panes, steel panels are ideal for the high allowable inertia of the FANUC M-710iC/50H With IP67 rated protection, the wrist is both waterproof and dustproof.
Integrated air and electrical services from J1 to J3 allow for quick tool connections, more dependable wiring, I/out gripper signals, and 24 volt air connectors.
The FANUC M-710iC/50H is the answer for material handling, machine maintenance, component transfer, assembly, die casting, and palletising. The FANUC M-710iC/50H is suitable for food packing, cutting, grinding, deburring, polishing, and arc welding due to its IP67 protection.
Automated Solutions Australia has decades of experience integrating FANUC robots to suit our customer's needs. ASA can manage your project from start to finish, including system specification, design, programming, installation, commissioning, and servicing. Contact our expert team at ASA today to discuss how our FANUC M710iC/50H can help transform your production processes.Whether you are a large or small manufacturer, we invite you to contact Automated Solutions Australia to explore the FANUC range today. Our industrial engineering team at ASA are FANUC robot specialists, from concept to system designs, installations, programming and support. At Automated Solutions Australia (ASA) we thrive on helping business of all sizes achieve their automation goals, enabling manufacturers to compete on the world stage while building sovereign capability. Call us now on 1800 ROBOTS (1800 762 687).
If you're looking for a multifunctional robot, get in touch with us today to see if the FANUC M-710iC/50H is the right robot for your application.