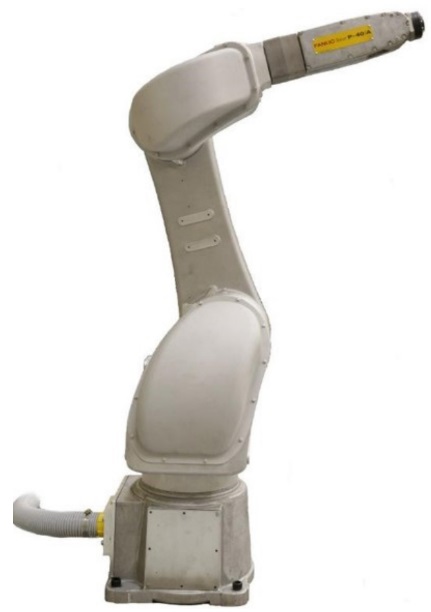 FANUC P-40 Paint Robot- Slim and Lightweight
The FANUC P-40 Paint Robot has a slim and lightweight design that offers a variety of mounting positions. This makes it perfect for manufacturers who are challenged by smaller workspaces. With a payload of 5kg and a reach of up to 1300mm, the FANUC P40 paint robot is the perfect mid-size paint robot. Coupled with the FANUC Line Tracking software, the P40 can paint while the parts are constantly in motion. This gives an overall greater working envelope and maximised productivity.
FANUC P-40 Paint Robot- Approved for Hazardous Locations
Designed and approved for use in hazardous locations, the FANUC P40 robot is ATEX and FM approved, meaning it is explosion proof. The FANUC P40 robot combines the production proven design strategies from the Paint Mate and FANUC P50iB robot FANUC models, resulting in a very reliable painting robot.
How can Automated Solutions Australia (ASA) Help?
Whether you are a large or small manufacturer, if you are looking at a paint robot for your manufacturing process, we invite you to contact Automated Solutions Australia to explore the FANUC range today. Our industrial engineering team at ASA are FANUC robot specialists, from concept to system designs, installations, programming and support. At Automated Solutions Australia (ASA) we thrive on helping business of all sizes achieve their automation goals, enabling manufacturers to compete on the world stage while building sovereign capability. Call us now on 1800 ROBOTS (1800 762 687).
This FANUC Paint robot is a flexible and adaptable paint robot that is capable of painting precise details, tiny components, and new styles with ease.
Click an Application to Explore Further:
 FANUC Paint Finishing, 
 Welding, 
 Palletising Robots, 
 Machine Tool Tending, 
 Robotic Vision Inspection Systems,             
 Plastics Painting, 
 Materials Handling Applications,
 Deburring and Polishing, 
 Fibreglass and Gelcoat Robots,                          
 Sealing and Dispensing, 
 Picking and Packaging, 
 Material Removal, 
 Shot Blasting and Peening