FANUC ARC Mate 120iD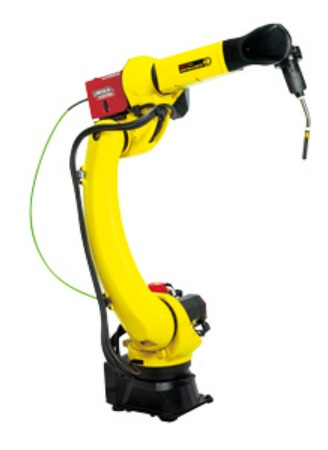 FANUC ARC Mate 120iD – Maximum Access, Speed, and Accuracy
The FANUC ARC Mate 120iD is an excellent welding robot with a small articulated design. This allows it to weld in tight jigs. It has a redesigned drive train that allows for substantially greater axis speeds. Additionally, it has a repeatability of +0.02 mm, due to its built in rigidity. For maximum operational flexibility, the FANUC ARC Mate 120iD has a large working envelope and can reach close to its own base. The robot increases productivity and profitability by combining FANUC reliability with greater motion performance. The cost of operation is low, and installing it is simple.
FANUC ARC Mate 120iD- Your Arc Welding Solution:
The 6-axis robot is ideal for welding in hard to reach areas thanks to its slim curved J2 arm, which is specifically designed to minimise interference. The FANUC ARC Mate 120iD comes equipped with a large hollow wrist, with a diameter of 57mm, for optimal snag-free access and trouble-free cable routing. With a payload of 25 kg and reach of 1831 mm, this robot allows manufacturers to increase productivity, enhance quality, save manufacturing costs, and increase worker safety. FANUC's robotic welding technology, along with the knowledge and skill that each ARC Mate weld robot is backed by, provides you the confidence to automate even the trickiest of welding projects. With the support of Automated Solutions Australia, manufacturers can find arc welding process solutions that will help them compete in today's global marke.
Automated Solutions Australia (ASA) is your ideal FANUC industrial and FANUC collaborative robot integrator. Our engineering team at ASA are FANUC robot specialists, from concept to system designs, installations, programming, and support. At Automated Solutions Australia (ASA), we love helping Australian businesses of all sizes reach their automation goals, and build their sovereign capability. This lets Australian business' compete on the world stage. Automated Solutions Australia (ASA) are the expert for all your FANUC industrial robot and FANUC collaborative robot needs. Phone Automated Solutions Australia (ASA) today on 1800-ROBOTS (1800-762-687).
The FANUC ARC Mate 120iD is the best arc welding robot for hard-to-reach places because of its large working envelope and inherent rigidity. It gives you the most access, speed, and accuracy.