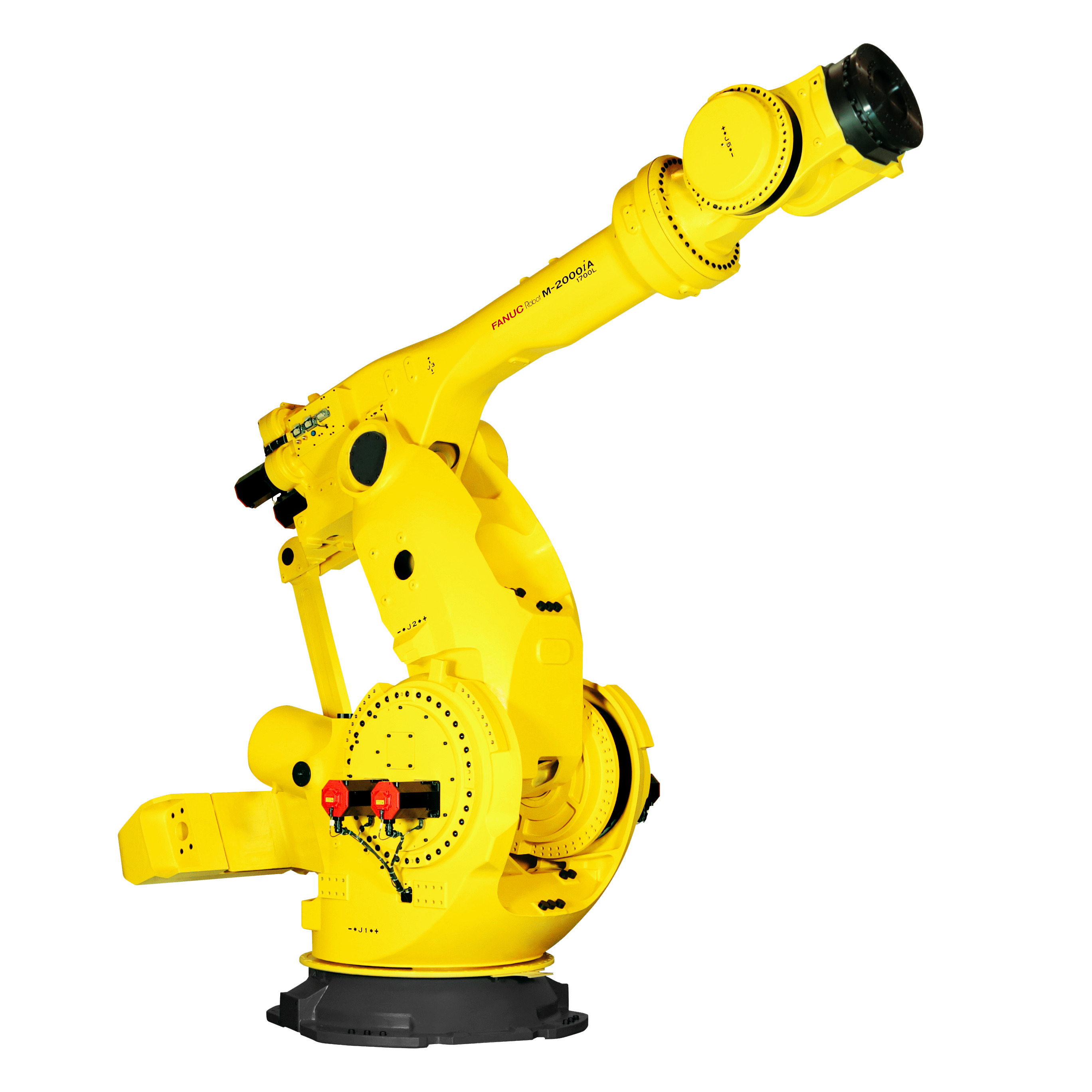 FANUC M-2000iA/1700L is the World's Strongest Long Reach Robot
With a payload of 1.7 tonnes and a stroke of 6.2 metres, the FANUC M-2000iA/1700L offers optimum flexibility for activities that need big and heavy items. This robot is capable of simply lifting and placing a full automobile body inside its expansive work area. It has been intended to enhance workflow, boost productivity, and cut expenses.
FANUC M-2000iA/1700L Applications
Assembly
Part Transfer
Dispensing
FANUC M-2000iA/1700L Features
The FANUC M-2000iA/1700L has a reach of over 4.7 metres. With its robust IP67-protected wrist, the 1700L's expansive work envelope makes it the perfect tool for activities requiring maximum working flexibility. The increased lifting capability of this model is a way to add versatility to heavy material handling activities. By automating these areas, this highly adaptable robot is designed to cut operating expenses, increase cycle times, and drastically reduce the chance of production material damage. Combining a broad work envelope with the versatility of six axes, the FANUC M-2000iA/1700L can move and position items inside a vast, precisely defined work area with a high degree of accuracy.
With its enormous payload and reach, the FANUC M-2000iA/1700L is able to do the task of traditional cranes, lifters, and shuttles, therefore increasing output and eliminating operator risk.
Automated Solutions Australia (ASA) is your ideal FANUC industrial and FANUC collaborative robot integrator. Our engineering team at ASA are FANUC robot specialists, from concept to system designs, installations, programming, and support. At Automated Solutions Australia (ASA), we love helping Australian businesses of all sizes reach their automation goals, and build their sovereign capability. This lets Australian manufacturers compete on the world stage. Automated Solutions Australia (ASA) is an industry-leading expert for all your FANUC industrial robot and FANUC collaborative robot needs. Phone Automated Solutions Australia (ASA) today on 1800-ROBOTS (1800-762-687).
If you're looking for a multifunctional robot with an ultra heavy payload, get in touch with us today to see if the FANUC M-2000iA/1700L is the right robot for your application.