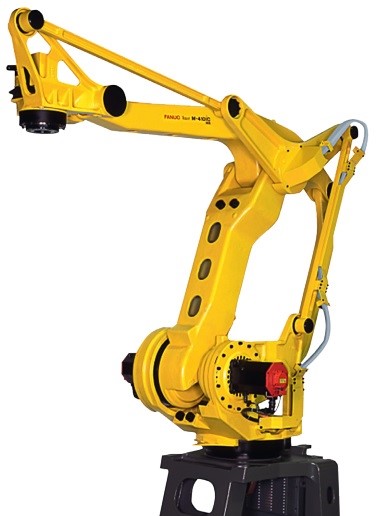 FANUC M-410iC/185 Boosts Throughput
The FANUC M-410iC/185 robot boosts throughput in palletising and handling applications. It was developed by FANUC, the company that created the world's first specialised palletising robot. This 4-axis robot is capable of handling any number of diverse palletising tasks due to its extreme speed and superior repeatability.
FANUC M-410iC/185 Applications 
Assembly
Load/Transfer
Dispensing
FANUC M-410iC/185 Features
Because of the high permissible wrist movements and the high inertia, it is possible to manage a large gripper and a hefty payload at the maximum speed.
Even in spaces that are limited in space, the FANUC M-410iC/185 is able to access and manoeuvre thanks to its slim arm and wrist assembly.
Because of the hollow wrist, a servo hand may be completely integrated into the robot. This allows for cable routeing to be done in a way that is both efficient and cost-effective. Additionally, the servo hand is controlled by the 6-axis servo amplifier in the capacity of the 5th axis.
This robot model is incorporated into the offline programming software developed by FANUC and referred to as ROBOGUIDE. It is possible for integrators, planners, and users to design cells, systems, and motions offline with the help of the powerful tool known as ROBOGUIDE.
Automated Solutions Australia (ASA) is your ideal FANUC industrial and FANUC collaborative robot integrator. Our industrial engineering team are FANUC robot specialists, from concept to system designs, installations, programming, and support. At Automated Solutions Australia (ASA), we love helping Australian businesses of all sizes reach their automation goals, and build their sovereign capability. This lets Australian manufacturers compete on the world stage. Automated Solutions Australia (ASA) is an industry-leading expert for all your FANUC industrial robot and FANUC collaborative robot needs. Phone Automated Solutions Australia (ASA) today on 1800-ROBOTS to find out more.
If you're looking for a fast palletising robot, get in touch with us today to see if this FANUC robot is the right robot for your application.