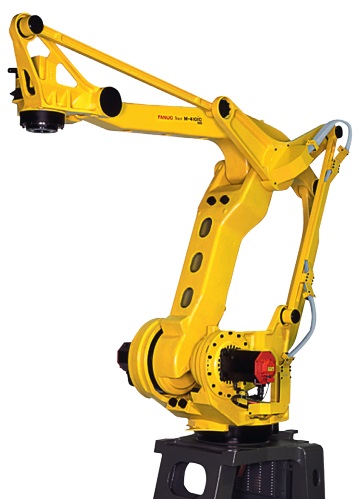 FANUC M-410iC/500 Boosts Throughput
The FANUC M-410iC/500 can lift 500 kg. The M-410 series is the optimal choice for palletising and handling applications, having been developed by the company that created the world's first specialised palletising robot.
FANUC M-410iC/500 Applications 
Assembly
Load/Transfer
Dispensing
Fanuc M-410iC/500 Features
The FANUC M-410iC/500 may be pedestal mounted depending on the application. The robot controller may be located either inside the pedestal or as a standalone device.
The routeing of cables via the robot's wrist reduces tangling.
The FANUC M-410iC/500, with FANUC iRVision, is capable of finding and manipulating random boxes and other objects.
This robot model forms part of ROBOGUIDE, FANUC's offline programming tools. ROBOGUIDE is a  tool that allows offline creation of cells, systems, and movements by integrators, planners, and users.
Automated Solutions Australia (ASA) is your ideal FANUC industrial and FANUC collaborative robot integrator. Our industrial engineering team are FANUC robot specialists, from concept to system designs, installations, programming, and support. At Automated Solutions Australia (ASA), we love helping Australian businesses of all sizes reach their automation goals.This allows Australian manufacturers to compete on the world stage. Automated Solutions Australia (ASA) are there for all your FANUC industrial robot and FANUC collaborative robot needs. Phone Automated Solutions Australia (ASA) today!
If you're looking for a fast palletising robot, get in touch with us today to see if this FANUC robot is the right robot for your application.