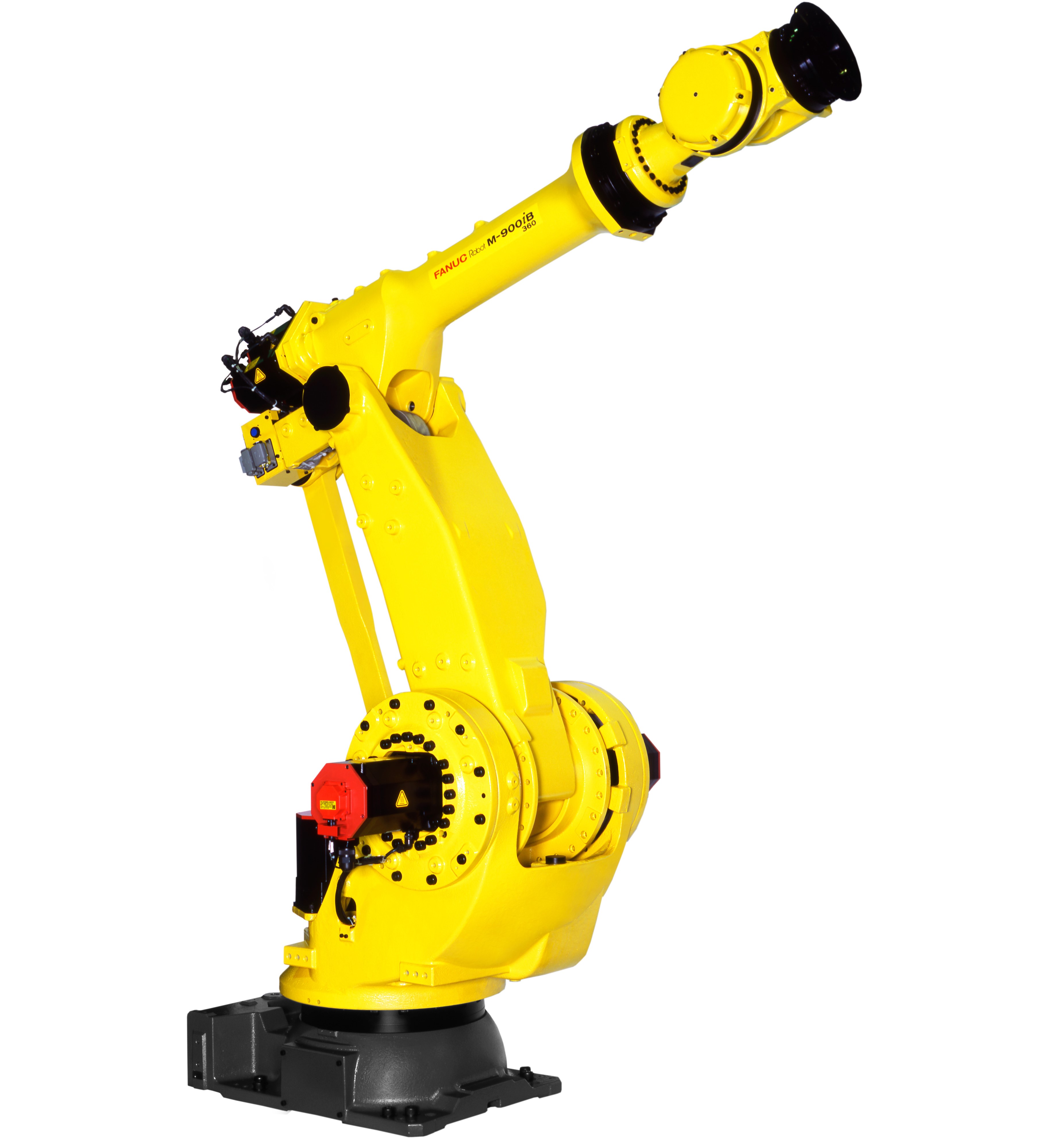 FANUC M-900iB/360 Flexible Manipulation and Placement
The FANUC M-900iB/360 robot is appropriate for applications involving higher workloads, such as assembly, parts transfer, and machine tending. With floor and ceiling mounting options, it is very adaptable, and its six axes provide the dexterity necessary for quick, precise handling. Enhanced cooling permits quicker cycle times and greater loads.
M-900iB/360 Applications
Assembly
Part Transfer
Dispensing
FANUC M-900iB/360 Features
Ideal for activities involving heavy assembling, welding, and loading inside a large envelope, the FANUC M-900iB/360 has a flexible design. The FANUC M-900iB/360 "lightweight" hollow wrist design protects motors from heat and harsh conditions and allows larger loads and duty cycles with its enhancing cooling. Where space is limited, this model offers ceiling, floor, angle, and wall mounting choices.
Optional severe dust and liquid protection (SDLP) protection kits for the robot's base, drive train, and J1 and J2 axes are available to offer dust and liquid resistance. Standard on J3 arm and wrist is IP67 protection.
Automated Solutions Australia (ASA) is your ideal FANUC industrial and FANUC collaborative robot integrator. Our industrial engineering team at ASA are FANUC robot specialists, from concept to system designs, installations, programming, and support. At Automated Solutions Australia (ASA), we love helping Australian businesses of all sizes reach their automation goals, and build their sovereign capability. This lets Australian manufacturers compete on the world stage. Automated Solutions Australia (ASA) is an industry-leading expert for all your FANUC industrial robot and FANUC collaborative robot needs. Phone Automated Solutions Australia (ASA) today on 1800-ROBOTS (1800-762-687).
If you're looking for a multifunctional robot, get in touch with us today to see if the FANUC M-900iB/360 is the right robot for your application.