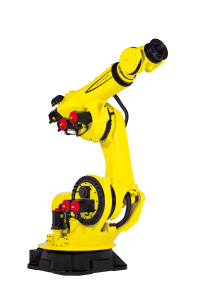 FANUC M-1000iA Applications
The FANUC M-1000iA series is made up of a newer large material handling robot from FANUC. It can lift and move huge items with more flexibility. The FANUC M-1000iA is FANUC's largest robot with a serial link system. This is as opposed to the parallel link mechanism found in heavy payload robots. As a result, the FANUC M-1000iA's vertical and longitudinal ranges of motion are expanded. This allows the arm to stand upright and spin rearward, which cannot be done with parallel link robots. This allows users to be more versatile in a variety of handling applications such as assembly, machine tending, material removal, dispensing, material handling and spot welding. Specifically, users of the 6 axis FANUC M-1000iA series can automate production lines and boost productivity in applications including drilling and handling automobile components, construction materials, and electric car battery packs
FANUC M-1000iA- Think BIG
With a huge payload of 1000kg and reach of 3254mm, as well as a vertical reach of 4229mm, the FANUC M-1000iA is not only distinguished by its size but also by its high rigidity and the high performance of its wrist. The wrist is IP67-rated for protection against dust and splashes. In addition to the traditional iPendant as a teaching device, the FANUC M-1000iA supports FANUC's latest R-30iB Plus control, as well as the easy-to-use Tablet TP. Additionally, like with all FANUC robots, the FANUC M-1000iA can have vision sensors and a variety of cognitive capabilities to boost flexibility. The FANUC M-1000iA is ready to go to work for manufacturers looking to increase output and maximize their production line's efficiency.
Automated Solutions Australia has decades of experience integrating FANUC robots to suit our customer's needs. ASA can manage your project from start to finish, including system specification, design, programming, installation, commissioning, and servicing. Contact our expert team at ASA today to discuss how our FANUC M-1000iA can help transform your production processes.Whether you are a large or small manufacturer, we invite you to contact Automated Solutions Australia to explore the FANUC range today. Our engineering team at ASA are FANUC robot specialists, from concept to system designs, installations, programming and support. At Automated Solutions Australia (ASA) we thrive on helping business of all sizes achieve their automation goals, enabling manufacturers to compete on the world stage. Call us now on 1800 ROBOTS (1800 762 687).
The FANUC M-1000iA is FANUC's largest robot with a serial link system, equipped with a whopping payload of 1000kg, it boosts productivity in applications including drilling and handling automobile components, construction materials, and electric car battery packs.