Industrial Robot V The Collaborative Robot (Cobot)
Industrial robots are mechanical devices that carry out duties in dangerous and hard-to-reach places. E.G. the metalworking or automotive industries, amongst many more. Furthermore, industrial robots come in a broad range of shapes and sizes. So they are able to service a multitude of manufacturing facilities. While work environments constrain industrial robots along with the close constitution, there is no such issue faced with collaborative robots. Hence the evolution of the cobot.
The Emergence of the Cobot
The term "cobot" was created due to the collaborative nature of the robot. In addition, this also helps distinguish between the cobot and robots. Because it is collaborative, it cooperates with people on tasks like palletising or welding. Unquestionably they are inherently safe, with an advanced sensing ability to detect their environment, avoid collisions, and improve human safety.
Because there are no fences around it, operators can work safely close to it, unlike with industrial robots. So it then becomes possible to control it manually or collaborate with another person. Most important, the FANUC range is well known,  as being simple to use.
FANUC Cobot (Collaborative Robot Series by FANUC)
The FANUC cobot range offers MORE payload and MORE reach choices than any other cobot brand with 8 models available. Ranging from 4-35 kg in payload and 550 to 1813 mm in reach. In addition to automating entire assembly lines, these collaborative robots keep the health and safety of your workers by taking over intense, repetitive tasks and lifting upto 35 kg. Undoubtedly, the future is now a reality, thanks to FANUC collaborative robots.
Whether you are a large or small company, if you are looking at automating your manufacturing process, we invite you to contact Automated Solutions Australia. Together we can explore the FANUC robot range today- call 1800 ROBOTS. Our engineering team at ASA are FANUC robot and cobot specialists, from concept to system designs, installations, programming, and support. At ASA, we thrive on helping Australian businesses of all sizes achieve their automation goals and compete on the world stage.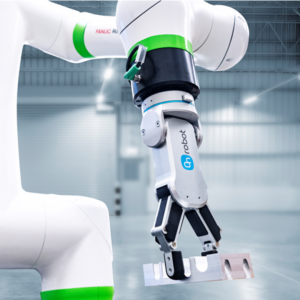 Click an Application to Explore it Further:
| FANUC Paint Finishing |  Welding, | Palletising Robots | Machine Tool Tending | Robotic Vision Inspection Systems |  Plastics Painting  | Materials Handling Applications |Deburring and Polishing | Fibreglass and Gelcoat Robots | Sealing and Dispensing | Picking and Packaging | Material Removal  | Shot Blasting and Peening  |
More (Recent) News Stories from Automation Solutions Australia:
Deburring Machines | Robots a Historical Overview | Robotics Engineering | Automatic Paint | Robotic Loading Systems for CNC | Unlocking Your Manufacturing Potential | Spray Painting Robots | Automatic Sandblasting | CNC Mills | Automated Welding | Unlock the Future with Automation Systems | Robot Company, The Automation Era | Choosing an Automation Company | Harness the Power of Robotics with ASA | Robotic Painting | Automotive Welding | The Path to Machine Tool Automation | System Integrator Australia | Robotic Welders | Automate your CNC | Automation Company | Electrical Design | Human Machine Interface | Plastic Paint Robots | PLC Programming | Robotics Australia | Materials Handling Solutions | Industrial/Manufacturing Robots | Industrial Engineering | FANUC Robot | Shot Blasting | Robotic Automation Solutions | Industrial Automation | FANUC Industrial Robots | FANUC Collaborative Robots | FANUC Palletising Robots | Robotic Palletisers | Robotic Fibreglass Spray Machines | CNC Machine Automation | Robotic Arm – An Industry Guide | The Cobot |