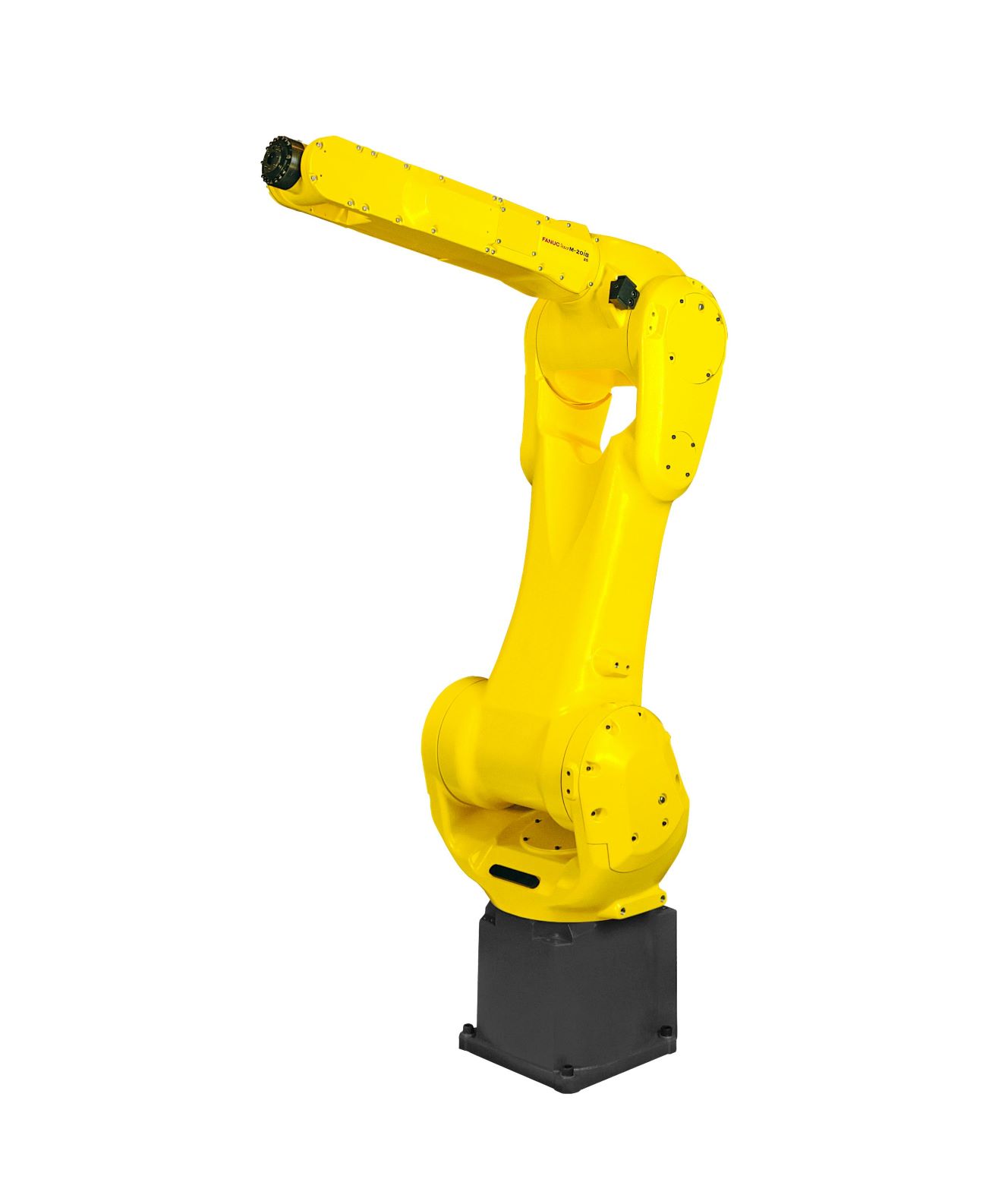 FANUC M-20iB/25 A Compact Robot
The FANUC M-20iB/25 has a maximum reach of 1853 mm and a maximum payload of 25 kg at the wrist. The hollow arm and its strong electric servo motors make it possible to speed up and slow down the machine quickly. In addition the FANUC M-20iB/25 is mountable in a variety of ways. The unit can be mounted on the floor, upside-down on the ceiling, or angle mounted.
Applications of the FANUC M-20iB/25
Because it is so flexible, the FANUC M-20iB/25 can be changed to meet process needs in a wide range of applications, such as:
Arc Welding: The FANUC M-20iB/25 can be fitted with arc welding tooling to accurately and efficiently complete complex welding processes. The high accuracy of the robot's movements ensures that product quality and reliability are maximised.
Material removal: Using different specialised tooling, the FANUC M-20iB/25 can also perform finishing processes on a variety of workpieces. To get the right finish on a part, the robot can switch between cutting, grinding, polishing, and other similar tasks.
Assembly: The extended reach of the FANUC M-20iB/25 makes it suitable for automating complex assembly processes where high payload capacity is required. The 6-axis control makes sure that the robot can move and position parts of all shapes and sizes with great accuracy.
Automated Solutions Australia (ASA) is your ideal FANUC industrial and FANUC collaborative robot integrator. Our industrial engineering team are FANUC robot specialists, from concept to system designs, installations, programming, and support. At Automated Solutions Australia (ASA), we love helping Australian businesses of all sizes reach their automation goals, and build their sovereign capability. This lets Australian manufacturers compete on the world stage. Automated Solutions Australia (ASA) is an industry-leading expert for all your FANUC industrial robot and FANUC collaborative robot needs. Phone Automated Solutions Australia (ASA) today on 1800-ROBOTS to find out more.
This FANUC robot is a highly versatile robot with impressive reach and payload capabilities. Contact ASA today to find out how this robot can work for you.
Click an Application to Explore Further:
 FANUC Paint Finishing, 
 Welding, 
 Palletising Robots, 
 Machine Tool Tending, 
 Robotic Vision Inspection Systems,             
 Plastics Painting, 
 Materials Handling Applications,
 Deburring and Polishing, 
 Fibreglass and Gelcoat Robots,                          
 Sealing and Dispensing, 
 Picking and Packaging, 
 Material Removal, 
 Shot Blasting and Peening