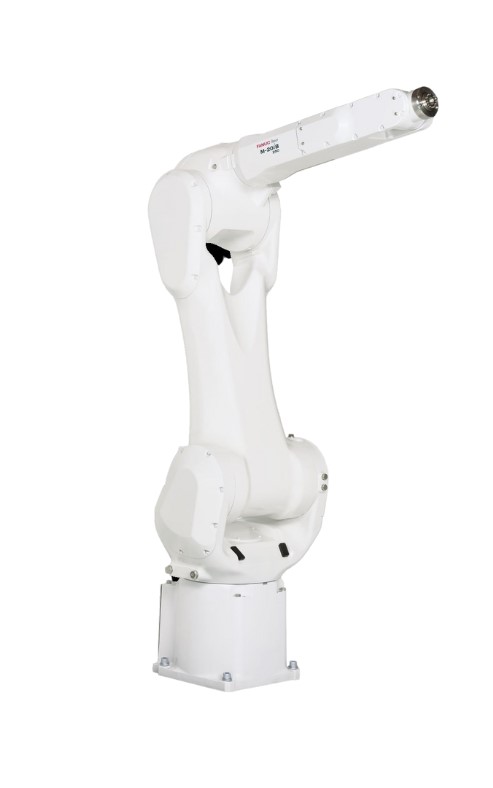 FANUC M-20iB/25C Powerful Clean Room Robot
The FANUC M-20iB/25C is an intelligent robot designed for processes in clean rooms and similar sanitary environments. The long reach and high payload of the FANUC M-20iB/25C are perfectly suited to environment applications such as food handling and the manufacturing of sensitive equipment. The mechanical units are fully sealed, with IP67 rating and the option to upgrade to IP69K where you need high pressure and hot water cleaning.
The FANUC M-20iB/25C has a maximum reach of 1853 mm, and a maximum payload of 25 kg at the wrist. The intelligent controller ensures reliable motion, with a repeatability of just ± 0.023 mm. The robot is mountable in a variety of ways based on the application, including floor, upside-down on the ceiling, or angle-mount.
Applications of the FANUC M-20iB/25C
The M-20iB/25C is the ideal choice for clean room processes needing speed and reliability. Examples include:
Assembly – the advanced control of the M-20iB/25C make it an attractive option for assembly processes in sensitive environments. High-precision tasks such as circuit board manufacturing or medical device assembly are made easy with the intelligent and robust design of this robot.
Picking/Packing – the M-20iB/25C is useable in clean manufacturing areas to pick and pack food and beverage items hygienically and efficiently. The high speed rate of the servo motors keep cycle time down, this ensures maximum production efficiency.
Material Handling – in addition, the M-20iB/25C is also highly adept at moving, sorting and palletising equipment in clean rooms. A variety of optical sensors can be used with the robot controller to reliably move objects to their correct locations.
Automated Solutions Australia (ASA) is your ideal FANUC industrial and FANUC collaborative robot integrator. Our engineering team are FANUC robot specialists, from concept to system designs, installations, programming, and support. At Automated Solutions Australia (ASA), we love helping Australian businesses of all sizes reach their automation goals, and build their sovereign capability. This lets Australian manufacturers compete on the world stage. Automated Solutions Australia (ASA) is an industry-leading expert for all your FANUC industrial robot and FANUC collaborative robot needs. Phone Automated Solutions Australia (ASA) today on 1800-ROBOTS to find out more.
The M-20iB/25C robot can be used to automate a wide variety of clean room processes to ensure production efficiency is maximised. Contact ASA today to find how this robot can work for you.
Click an Application to Explore Further:
 FANUC Paint Finishing, 
 Welding, 
 Palletising Robots, 
 Machine Tool Tending, 
 Robotic Vision Inspection Systems,             
 Plastics Painting, 
 Materials Handling Applications,
 Deburring and Polishing, 
 Fibreglass and Gelcoat Robots,                          
 Sealing and Dispensing, 
 Picking and Packaging, 
 Material Removal, 
 Shot Blasting and Peening