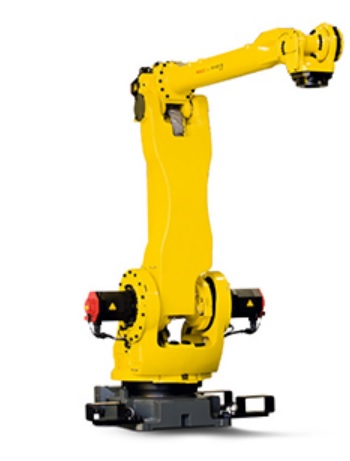 The FANUC M410iB/140H is Designed Specifically For Palletising
This FANUC M410iB/140H 5 axis robot is an extremely fast option, offering the best repeatability in the range at +- 0.2mm. Designed specifically for palletising the FANUC M410iB/140H increases throughput. With a payload of 140kgs and a large vertical work envelope, including a reach of 2850mm, this FANUC robot is capable of many configurations. With internal cable routing through the wrist there is no interference and cable life is lengthened.
The FANUC M410iB/140H Features High Operating Dpeeds
The FANUC M410iB/140H high wrist moments and inertia allow it to handle large grippers and hefty payloads at top speed. The fastest robot in its class, this robot can increase productivity by up to 1900 palletising cycles per hour. The FANUC M410iB/140H can also be installed with a servo hand that is controlled by the 6 axis servo, perfect for handling different sized goods.
Choose the FANUC M410iB/140H For Other Applications
Although specifically designed for palletising, the FANUC M410iB/140H lends itself to other applications that demand maximum throughput and accurate repeatability. These include assembly, pick/pack, load or transfer and dispensing applications.
Automated Solutions Australia (ASA) is your ideal FANUC industrial and FANUC collaborative robot integrator. Our industrial engineering team are FANUC robot specialists, from concept to system designs, installations, programming, and support. At Automated Solutions Australia (ASA), we love helping Australian businesses of all sizes reach their automation goals.. This lets Australian manufacturers compete on the world stage. Automated Solutions Australia (ASA) is an industry-leading expert for all your FANUC industrial robot and FANUC collaborative robot needs. Phone Automated Solutions Australia (ASA) today.
The FANUC M-410iB/140H robot is a highly versatile robot with impressive reach and payload capabilities. Contact ASA today to find out how this robot can work for you.