Automated Solutions Australia is the leading integrator of technologically enhanced Plastic Painting Robotics, increasing efficiency and reducing overhead costs.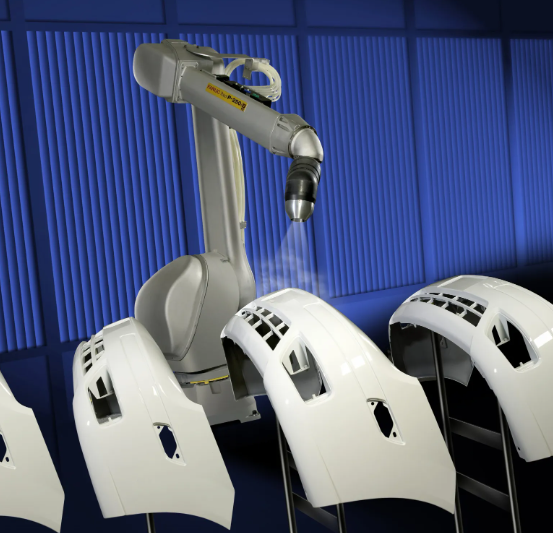 Automated Solutions Australia Bringing You World-Class Automated Plastic Paint Robotics
At ASA our goal is to provide perfect plastic paint quality to our customers, to allow them to produce the highest quality of plastic paint components they can, along with reducing cost overheads and provide lean manufacturing techniques to reduce waste and allow for greater usage of paint required for the plastic components. Via Utilising a range of robotics systems, we are able to provide full prime and topcoat coverage, also providing 2K Clearcoat application, at ASA are able to achieve high quality application and ongoing quality improvement to whatever our customer needs for their plastic paint parts.
Through the use of dynamic, process engineering software, ASA is able to control all variables in plastic paint application. Allowing us to control our robots paint applicator with such precision that less paint is wasted and with greater transfer efficiency to the part. All of our robots have Incredible flexibility with static paint attraction, shaping and vortex air control and colour changing capabilities thus allowing us to save time, cost and provide our customers with whatever plastic paint colour or application time they wish.
Contact us for all your Paint Robotics needs.
Have you got a need for plastics paint? Are you after improved throughput for your production? At ASA we are keen to provide you with all the answers to your needs. We can increase your production times of parts, and provide the best in the industry quality for your components. Our industry leading robotics systems are currently operating globally in plants overseas and here in Australia. Our team of experienced and diverse industrial engineers can increase your cycle time, quality, and throughput requirements to save you time, money, and hassle, through the use of our dynamic plastic painting robotics. With our support from inception, scope, design, implementation, and training.
Click an Application to Explore Further:
| FANUC Paint Finishing |  Welding, | Palletising Robots | Machine Tool Tending | Robotic Vision Inspection Systems |  Plastics Painting  | Materials Handling Applications |Deburring and Polishing | Fibreglass and Gelcoat Robots | Sealing and Dispensing | Picking and Packaging | Material Removal  | Shot Blasting and Peening  |
More (Recent) News Stories from Automation Solutions Australia:
Deburring Machines | Robots a Historical Overview | Robotics Engineering | Automatic Paint | Robotic Loading Systems for CNC | Unlocking Your Manufacturing Potential | Spray Painting Robots | Automatic Sandblasting | CNC Mills | Automated Welding | Unlock the Future with Automation Systems | Robot Company, The Automation Era | Choosing an Automation Company | Harness the Power of Robotics with ASA | Robotic Painting | Automotive Welding | The Path to Machine Tool Automation | System Integrator Australia | Robotic Welders | Automate your CNC | Automation Company | Electrical Design | Human Machine Interface | Plastic Paint Robots | PLC Programming | Robotics Australia | Materials Handling Solutions | Industrial/Manufacturing Robots | Industrial Engineering | FANUC Robot | Shot Blasting | Robotic Automation Solutions | Industrial Automation | FANUC Industrial Robots | FANUC Collaborative Robots | FANUC Palletising Robots | Robotic Palletisers | Robotic Fibreglass Spray Machines | CNC Machine Automation | Robotic Arm – An Industry Guide | The Cobot |