Automated Solutions Australia is the leading integrator of technologically enhanced FANUC palletising robots, increasing productivity and lowering overhead costs.
Automated Solutions Australia Bringing You World-Class FANUC Palletising Robots
At Automated Solutions Australia (ASA), we take pride in being one of Australia's leading experts in FANUC palletising robot integration. Our facilities, both in Adelaide and Melbourne, are a hub for ASA engineers, industrial designers and project management teams. Besides serving our local clients, we also provide our services abroad. In our 20 years of experience, we have created a network of clients worldwide- across diverse industries, including fields of automotive, aerospace, medical, foundry, energy, and many others.
We comprise a dedicated and skilled team of specialists, who put simply- love what they do. FANUC Palletising robots are our passion. We offer our services to our clients' with the aim of complete satisfaction. This is because our team believes in building long-lasting relationships with our customers. This ethos has seen ASA earn a strong reputation across the sector, with industry leading customer retention rates. Our experts believe that understanding our customer's pain points through an individual approach, has achieved an unmatched level of personalised customer service.
This begins with a Needs Analysis, should you require one.  The purpose is to identify potential opportunities within your current manufacturing processes.
What Sets Our FANUC Palletising Robot Solutions Apart From Others?
ASA provides some of the most technologically advanced palletising robot solutions in Australia. One thing that sets us apart from others is our value for the highest quality available. We understand that our customers' needs vary. As such, we offer customised solutions to meet our clients' unique business needs. With a dedicated project management team, we can work with you to provide tomorrow's solutions today.
We have adopted technologically advanced solutions and focus on increasing quality in everyday manufacturing. Our robots can help reduce labour costs and material usage through innovative application technology. This will help you meet your company objectives.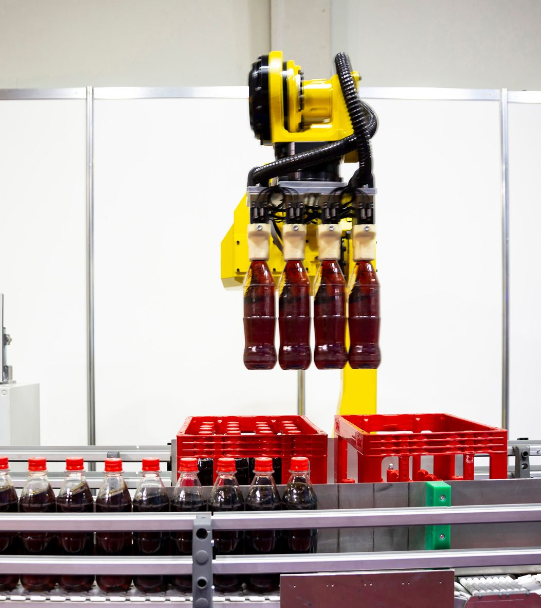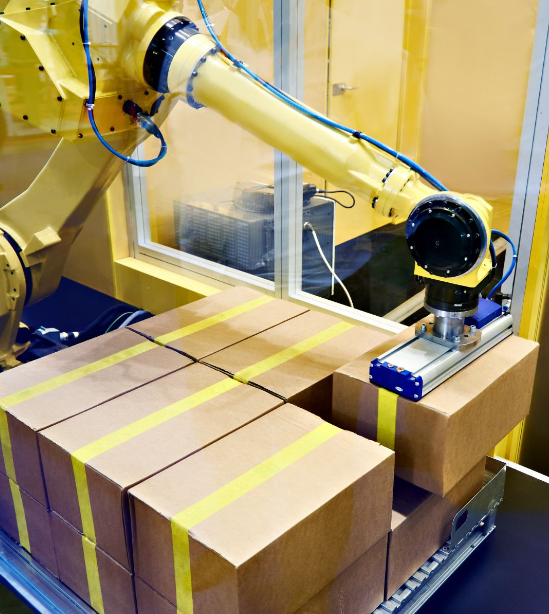 Book an Appointment with Our Experts in Australia
Are you in need of robust palletising robot solutions in Australia? ASA has all the answers for your industrial automation needs. Here, we give you upfront advice on payloads and work envelopes, to help guide you through what to expect on your transition to automation.
Our approach is simple. Through active and responsive collaboration with our clients, we are able to design and integrate automated solutions by drawing on our best asset – our people. This is our point of difference. By having knowledgeable and reliable industrial engineers on board, who understand the palletising needs of our customers, we can provide 100% customer satisfaction. We also have a project management team who will walk with you throughout the entirety of your project. For the latest palletising news, click here.
Click an Application to Explore it Further:
| FANUC Paint Finishing |  Welding, | Palletising Robots | Machine Tool Tending | Robotic Vision Inspection Systems |  Plastics Painting  | Materials Handling Applications |Deburring and Polishing | Fibreglass and Gelcoat Robots | Sealing and Dispensing | Picking and Packaging | Material Removal  | Shot Blasting and Peening  |
More (Recent) News Stories from Automation Solutions Australia:
Deburring Machines | Robots a Historical Overview | Robotics Engineering | Automatic Paint | Robotic Loading Systems for CNC | Unlocking Your Manufacturing Potential | Spray Painting Robots | Automatic Sandblasting | CNC Mills | Automated Welding | Unlock the Future with Automation Systems | Robot Company, The Automation Era | Choosing an Automation Company | Harness the Power of Robotics with ASA | Robotic Painting | Automotive Welding | The Path to Machine Tool Automation | System Integrator Australia | Robotic Welders | Automate your CNC | Automation Company | Electrical Design | Human Machine Interface | Plastic Paint Robots | PLC Programming | Robotics Australia | Materials Handling Solutions | Industrial/Manufacturing Robots | Industrial Engineering | FANUC Robot | Shot Blasting | Robotic Automation Solutions | Industrial Automation | FANUC Industrial Robots | FANUC Collaborative Robots | FANUC Palletising Robots | Robotic Palletisers | Robotic Fibreglass Spray Machines | CNC Machine Automation | Robotic Arm – An Industry Guide | The Cobot |