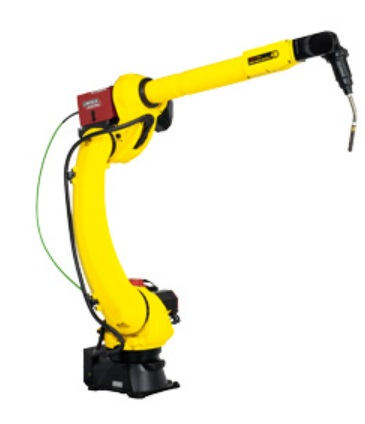 FANUC ARC Mate 120iD/12L- Maximum Access, Speed, and Accuracy
The FANUC ARC Mate 120iD/12L is an excellent welding robot with a small articulated design that allows it to weld in tight jigs. This type, designed with welding operations in mind, has the fastest axis speeds and the highest precision in its class. Because of its lengthy horizontal stroke, this highly adaptable robot can weld very large pieces. With a reach of 2272 mm, the long arm model, from the ARC Mate line, is ideal for welding operations where reach is critical. It can also carry up to 12 kg of additional tools and torches, giving it more applications and making it more versatile.
FANUC ARC Mate 120iD/12L- Your Arc Welding Solution
The FANUC ARC Mate 120iD/12L's smooth surfaces help to reduce spatter build up. The robot's wrist axes have IP67 protection against moisture and dust, making it perfect for dirty welding or cutting operations. It comes with a large hollow wrist, with a diameter of 57mm, for optimal snag-free access and trouble-free cable routing. The FANUC ARC Mate 120iD/12L is completely articulated to fit into tight places in jigs and fixtures. With the inclusion of utilities such as seam tracking sensor cables, air pipes, and vision cables routed through its wrist. With the help of FANUC's advanced robotic welding technology and the knowledge and skill behind each ARC Mate weld robot, you can automate even the most difficult welding projects.
Automated Solutions Australia (ASA) is your ideal FANUC industrial and FANUC collaborative robot integrator. Our industrial engineering team at ASA are FANUC robot specialists, from concept to system designs, installations, programming, and support. At Automated Solutions Australia (ASA), we love helping Australian businesses of all sizes reach their automation goals, and build their sovereign capability. This lets Australian manufacturers compete on the world stage. Automated Solutions Australia (ASA) is an industry-leading expert for all your FANUC industrial robot and FANUC collaborative robot needs. Phone Automated Solutions Australia (ASA) today on 1800-ROBOTS (1800-762-687).
For the latest news on this robot, click here. 
With its huge working envelope, the FANUC ARC Mate 120iD/12L is the perfect arc welding robot solution, for hard-to-reach spaces, encompassing maximum speed, access and accuracy.