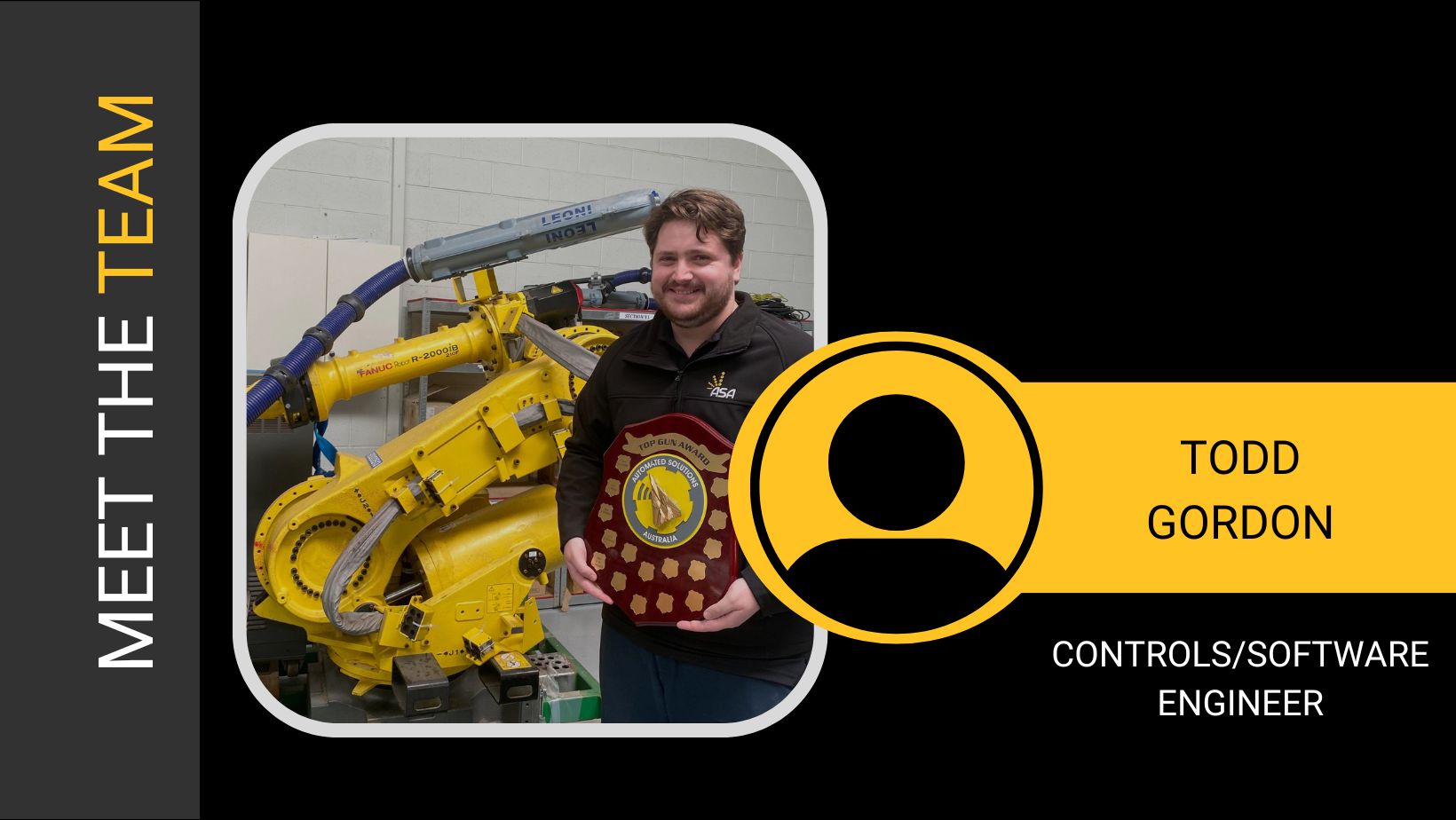 Todd, or Snags, as he is more affectionately known by his colleagues, is a Controls/Software Engineer with Automated Solutions Australia (ASA). Todd earned the nickname Snags at the ripe old age of 9 years old after an infamous country footy training session. In true Aussie tradition, there was sausage sizzle bubbling away during the Thursday night training – a constant distraction for those trying to focus on killing it with 9 year old skills and crisp chatter. The junior team chatter turned to bragging rights for who could eat the most sausages in bread. Eleven sausages in bread with all the trimmings later, and the team's Ruckman out-ate his team mates and appropriately earned the title that has stuck. Legend has it that he's never tried to repeat the feat, but he does concede to liking portion sizes in America. Todd's country footy career came to an abrupt halt at 20 years old, after a questionable tackle in a game of backyard footy from fellow ASA employee Ben Illman whilst over-indulging in Australia Day festivities.
Todd's focus turned to an Electrical Engineering degree, following his childhood friend Ben Illman to Uni SA. The two had known each other from their childhood homes on the Yorke Peninsula, where they grew up in the same town. Having known each other since 7 or 8 years old, it was a natural progression for Todd to join Ben at ASA.
We took some time out of Todd's busy schedule to ask him a few questions about his time with ASA, and what he's enjoyed.
What has been your favorite robot to work with? 
That's an easy question – the FANUC P-700, because of the versatility, and its adaptability to work in so many applications across paint. I do like Fanuc M-2000iA/1200 robot as well – its been used for sealer applications, to lift vehicles up and down, and is on display lifting a Corvette when you walk into FANUC America's office in Rochester Hills.
Most interesting project ?
Definitely an electric car project in the USA that I recently worked on. It was anything but standard, so it really presented a lot of challenges. I was working on paint zones and sealer zones, and had the opportunity to work with a lot of different people in the industry as they launched the new plant. Worked alongside competitors and suppliers, in delivering an outcome, made for a great challenge. I had the opportunity to work with a diverse group of people who had a lot of experience.
What's been your biggest challenge you've had to overcome on a project?
I get challenged almost every day at ASA. Learning sealer and paint controls concurrently, and learning the intricacies of both, was certainly a challenge, but one that you thoroughly enjoyed. Getting used to the work environment, and meeting the work expectations across so many different departments was certainly a challenge. The challenges are one of the things that I really love about this job.
What do you enjoy most about working at ASA? (Best part of your job?) 
The opportunities to be challenged, and definitely the interactivity with the team. All the different people you get to work with, whether they be an ASA project team, or the Customer team, the opportunities to meet people are diverse. And being able to get to see the world while you're doing it! I loved seeing and hiking the Grand Canyon in between projects. Tombstone National Park and Sedona National Park were fantastic. I am looking forward to Canada and seeing Niagra Falls from the northern side will be very unique. I have seen it from the US side, so it will be great to tick off another natural wonder. I'm also looking forward to working with the fellow Australians on a Canadian project!