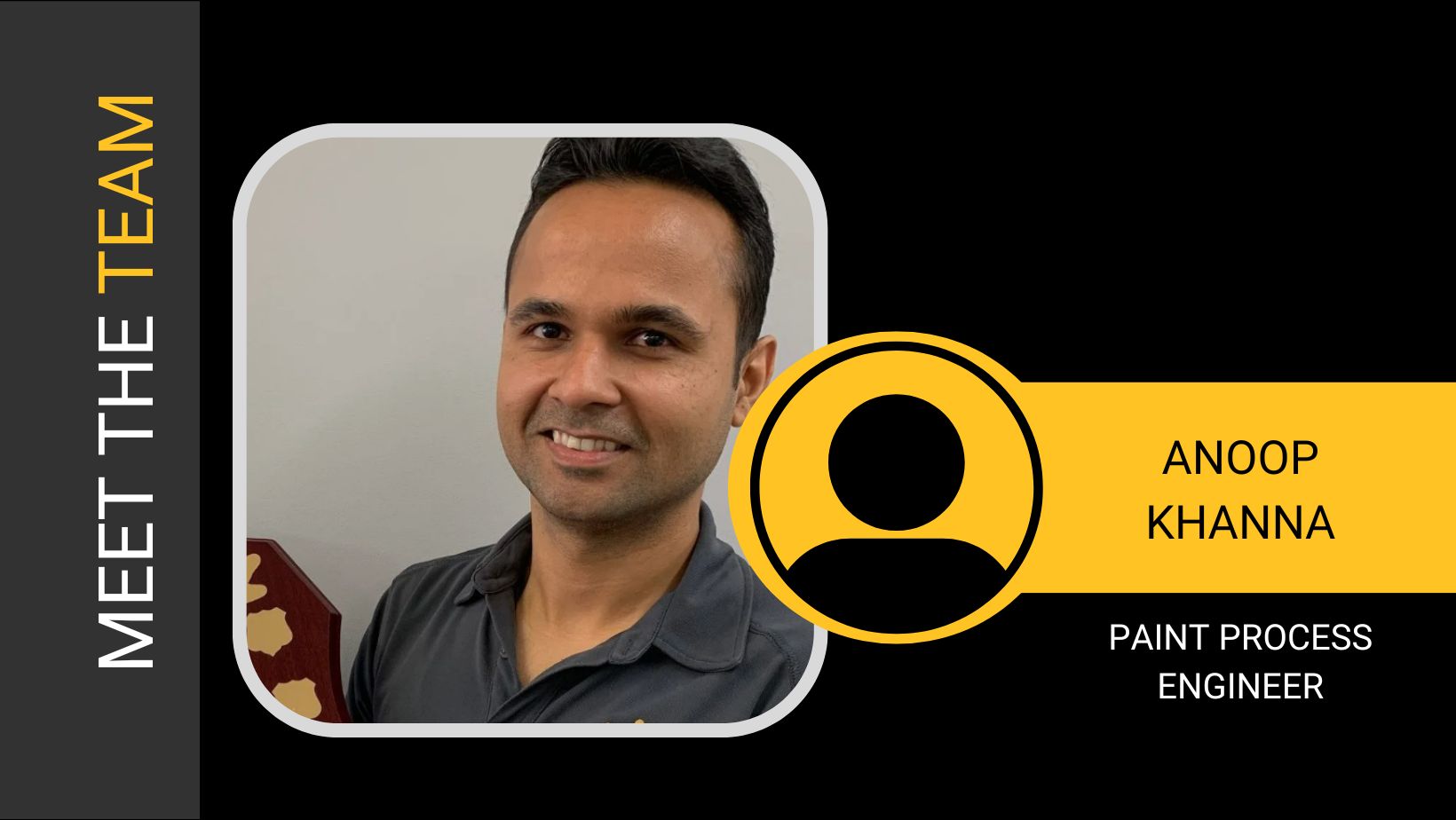 In this Edition Meet the Team, we feature an in-depth look at Anoop Khanna, one of our Adelaide-based Paint Process Engineers. Anoop won the internal "Top Gun" award this Summer for his efforts to go over and above in delivering great customer experiences, measured across the 2019 calendar year. His successes include featuring strongly in his peer reviews as a project lead and someone who customers continually request by name.
Anoop joined ASA in 2015, but he is no stranger to paint automation. Anoop worked for four years at GM India's Talegaon plant as the Deputy Manager in the Paintshop, and prior to that, he was the Quality Manager at Tata Motors. Anoop boasts certifications as an ISO/TS-16949 Auditor and is a Six Sigma Green Belt. Aside from paint experience, Anoop is also renowned for his culinary skills, much to the envy of some of his colleagues, who often set off the smoke detector in their attempts to rival his attempts to recreate last night's Masterchef dish.
On his most recent project for ASA, Anoop's programming skills and customer relations were recognized. Anoop developed cutting edge programming techniques for an extremely complex program to paint buses with over 5,000 possible combinations.
Anoop talks more about his work in automation and describes with more detail, his innovative approach to programming for an extremely complex application which can (and will) be used as a future platform for similar projects moving forward.
What's your favourite robot to work with?
My favourite robot is the Fanuc P700 as these robots are flexible, easy to program and the P700 has greater reach to the more difficult to access areas resulting in better paint coverage and quality products.
What's been your greatest challenge?
Each project is very different from each other and each project presents its own set of challenges. This gives me an opportunity to learn and grow. In this industry, change is a given. Almost each project has new technology, procedures and improvements we need to keep up to date with. For this reason, this job can never be monotonous.
What's been your most interesting project?
I would definitely have to say my last Project in Atlanta GA – USA was the most interesting to date. We installed automation into a company which produces buses. Initially the project sounded simple. A bus is essentially a rectangular shaped object. In reality, the bus is 100% custom and we rarely ever saw a bus which was the same as the last. A custom bus has the option of several different platforms, different size windows, quantity of windows, the order of windows, the  location of windows and doors, AC units, brackets and a long list of other variants which can also be in a number of different locations. We used data Registers and position Registers as well as almost every programming instruction available from Fanuc over thousands of lines of code to accomplish our goal to paint any bus combination of over 5700x combinations possible.
We worked closely with the plant to generate barcodes as this is the plants first taste of automation.  A barcode carries the bus information in the form of a binary string of 114 characters. The binary string has information regarding the bus type (Platform), Bus length, if it has Emergency doors, AC doors, Luggage compartments and so on.  After the barcode  is scanned, the binary information transfers to PLC which transfers these binary numbers to the robot where it is stored in the dynamic registers. We then convert this raw data into meaningful measurement values using logic. After spraying the bus, all the register are overwritten with new data once the next bus arrives into station and this continues seamlessly.
We used logic (macros) to calculate in the background to work out length of the bus and each and every individual variant. We used  Position Register Offset on Y & Rail to shift the path (pillars at this instance) from known fixed position (reference position) or Zero position ( highlighted with Red line on bus pic below) , this reduced the amount of processes required as we work out all they are calculated dynamically while the program is running.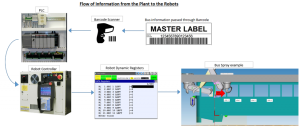 What's the best part of your job?
Travel and explore different cultures. We are always on the move and travel to different countries where we meet different people who speak different languages and come from all different walks of life. We also get to experience all sorts of weird and wonderful foods and drinks. There is so much to learn and explore.
Favourite country you've worked in?
Argentina. This country never sleeps, there's always something going on. People are friendly, multi-cuisine food, beautiful capital city Buenos Aries.