The All New FANUC CRX Collaborative Robot Raises The Bar on Collaborative Technology
The all new CRX Collaborative robot from FANUC made its debut in Tokyo on December 18th at the iREX show. The CRX co-bot has been designed around three very specific core values, ultimate reliability, quick and easy setup, and ease of programming.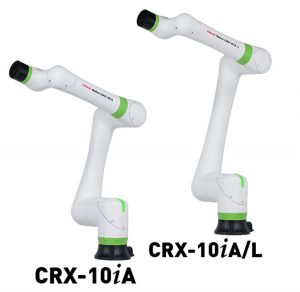 CRX Features
The CRX series of collaborative robots features two lightweight models. The CRX-10iA with a reach of 1249 mm, and its longer arm counterpart, the CRX-10iA/L, with a 1418 mm reach. Both robots feature an end of arm payload of 10 kg, and are designed for handling, assembling, and arc welding applications.
The sleek, modern design of this collaborative unit makes it completely safe to work side by side with employees. The new design is backed by decades of experience in the design and manufacture of robots with world-renowned reliability. It is built to the same uncompromising quality standards that customers expect from FANUC products.
The CRX units are sleek white, departing from the traditional FANUC green collaborative robot range. One of the key features of the CRX range of collaborative robots is the quick and easy setup. The lightweight and compact design allows for easy integration into any work area or existing system, and doesn't require a crane or lifting equipment to install.
To minimise the footprint of the unit, the CRX co-bot uses FANUC's latest compact R-30iB Mini Plus Controller, providing even more spatial savings to the customer.
Little to no programming knowledge is needed to program the new CRX Collaborative robot.
A key point of differentiation for the CRX is the 'lead through teach' programming, and a new tablet interface with icons for touch control. A 'tablet vs teach' pendant provides a familiar interface for those who haven't used a robot before, giving users a greater degree of confidence to create programs.
The CRX-10iA/L arm's swing motion makes it easy to access and pick up parts located behind the robot, while the unit easy connects to third-party grippers for a wide variety of applications. The unit also supports FANUC's intelligent robot features such as iRVision® and iRPickTool software.
Be prepared for a new level of reliability, ease of setup, and ease of programming in the collaborative robot space.
The CRX series of collaborative robots are scheduled for release in the second quarter of 2020.