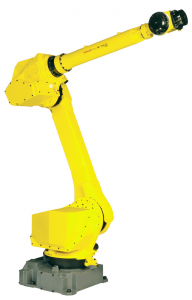 The M-710iC series is a unique line of lightweight robots intended for a variety of applications. The FANUC M-710iC/45M features a slender wrist, robust arm and high axis speeds, making it ideal for a variety of industries. Its 2606 mm of reach, and 45 kg payload, make it ideal for transporting small pallets, combining speed and a wide work envelope.
FANUC M-710iC/45M Applications
Assembly
Load/Transfer
Dispensing
Spot Welding
FANUC M-710iC/45M Features
The extended reach of the FANUC M-710iC/45M  arm makes it suitable for transporting pallets over a larger work area. It is ideally suited to high speed transfer operations. The slender body and small wrist allow optimum adaptability in a variety of settings when space is limited. J1 provides multidirectional action through a complete 360-degree rotation.
FANUC M-710iC/45M mounting options include choices for the floor, inverted, and at an angle provide maximum versatility.
The FANUC M-710iC/45M comes with full IP67 protection against water and dust for the whole wrist and body of a robot in harsh environments.
How can Automated Solutions Australia (ASA) help?
Automated Solutions Australia has decades of experience integrating FANUC robots to suit our customer's needs. ASA can manage your project from start to finish, including system specification, design, programming, installation, commissioning, and servicing. Contact our expert team at ASA today to discuss how our FANUC M710iC/45M can help transform your production processes.Whether you are a large or small manufacturer, we invite you to contact Automated Solutions Australia to explore the FANUC range today. Our industrial engineering team at ASA are FANUC robot specialists, from concept to system designs, installations, programming and support. At Automated Solutions Australia (ASA) we thrive on helping business of all sizes achieve their automation goals, enabling manufacturers to compete on the world stage while building sovereign capability. Call us now on 1800 ROBOTS (1800 762 687).
If you're looking for a multifunctional robot, get in touch with us today to see if the FANUC M-710iC/45M is the right robot for your application.