Chamberlain Group's manufacturing facility in West Gosford is the Australian success story behind recognisable garage and commercial door opener brands Merlin (residential applications) and Grifco (industrial and commercial applications). The Grifco portfolio of automatic roller shutter drive systems for commercial and industrial applications is made in West Gosford, a brand synonymous with high quality and market leadership.
In 2015, due to increased domestic market share and growth into international markets, Chamberlain Group sought an automated solution to meet the demands of their continuing expansion. Okuma Australia and Automated Solutions Australia were engaged to install and deliver a new Multus U3000 coupled with a Fanuc R2000iC/125L robot with dual grippers and Marposs automatic post-process gauging.
Automated Solutions Australia And Okuma have worked collaboratively on projects in Australia for over a decade and through this experienced and trusted relationship designed a cell to manufacture the range of gears and shafts that are integral components of the drive mechanism of the Chamberlain Group roller shutter drive systems.
Okuma Australia completed the mechanical design of the cell and provided the machine tools. Automated Solutions Australia completed the control system design, supplying and commissioning the control system and the robot.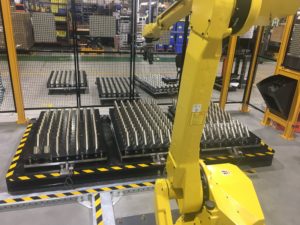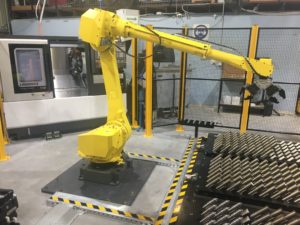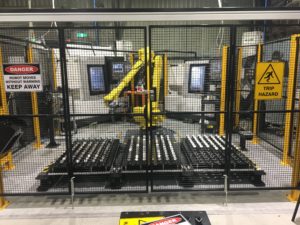 Turn the clock forward three years and Chamberlain Group have installed another Okuma production cell featuring two Okuma LB3000EX2 machines. The new unit is faithfully attended by a Fanuc M710iC/20L robot with dual grippers and another Marposs automatic post-process gauging system. This cell is designed to manufacture just the shafts, but at only half the previous cycle time due to the use of the two machine tools. This new production cell allows the first production cell to manufacture just the gears, freeing it of the demand of making the shafts. The net result to Chamberlain Group is a greatly increased production capacity that will satisfy their growing demand, for now at least.
Shane McParland, Chamberlain Group's Australian Manufacturing Manager, says "We've had a great relationship with Okuma spanning back to the installation of their first Okuma machine in 1998, and it is still critical to our production today. The highly reliable machine, as well as the service and support provided by Okuma's Sydney office led us to Okuma for our first automated machining cell. The success of that cell made it a very simple decision to go with Okuma again with this new cell".
McParland continues, "the experience with Okuma's robotic systems integrator, Automated Solutions Australia, has been great. We've found them to be extremely reliable, friendly and professional. When we've had reason to call for support over the last 3 years, the response has always been prompt and the information provided has been spot on. The Fanuc robot has been absolutely faultless. The programs have been written with lots of comments and explanations imbedded to make it easy for us to follow. We can easily make adjustments and new part programs from scratch using the existing programs as templates. When we were working through the decision to create a second automated cell, there was no question we wanted the Okuma, Automated Solutions Australia, Marposs team back on the job, led by Leigh Milvain from Okuma. I don't doubt the same team will provide our future systems".