Columbia Australia epitomises the innovative, visionary and entrepreneurial business and individuals driving the manufacturing industry now and into the future.  The company started in 1956 as a tool room and now supplies to a diverse range of industries including clean energy, electrical, cosmetics and consumer goods packaging.
Like the myriad other Australian-based automotive suppliers impacted by the collapse of the motor vehicle industry in Australia, the exit of Mitsubishi, Ford, Holden and Toyota from Australian had the potential to adversely impact the viability of the company. Columbia's ability to transform rapidly however has secured its position and is a hallmark of its continuing success.
A period of rapid growth demanded a responsive and innovative approach to an evolving market and this has been achieved by Managing Director Ryan Groom by investing in automation, new digital technologies, and research and development.
Like many other manufacturers, there was a compelling argument for Columbia Australia to change the way they did business in order to compete globally. A willingness to consider and invest in flexible automation has provided them with a competitive edge and through an ongoing partnership with ASA, have adopted flexible robotic solutions that are cost effective, productive, and robust.
In responding to and approaching new systems Ryan explains that "ASA recognise the challenges we face and consistently deliver solutions focused on increasing quality, throughput and robustness in our everyday manufacturing.
The systems ASA present reduce machine idle time and increase overall utilisation dramatically, deliver reduced labour targets, and most of all, are reliable."
The company's focus on automation and R&D over the past five years has led to new product development and process improvements, and enabled Columbia Australia to compete at a global scale, including a highly efficient process or machining components for the clean energy  industry, which are exported to Europe.
"The systems ASA present deliver reduced labour targets, and most of all, are reliable."
For this application Columbia was looking for a highly creative solution for a limited and confined space.   The layout for the rail system that ASA designed for 4 robots to service 9 machine tools was integral to the success without compromising capacity in any way.  ASA was instrumental throughout the installation process, marking out the site with Columbia staff and orchestrating the placement and alignment of the machine tools, robot rail and cell guarding within tight tolerance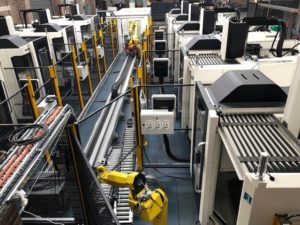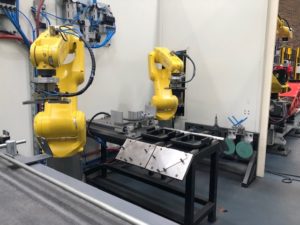 The flexibility of the system which includes the long reaching Fanuc M710iC/20L rail robot and a stationary Fanuc M20iA robot to tend the machines and two LR Mate 200iD robots for supplementary process work, meant that during a very rapid growth period, Columbia was able to respond and meet an increase in demand of 600% units manufactured per day.
Recognised at the 2019 Victorian Manufacturing Hall of Fame Awards for its continued ability to adapt and evolve, this accolade confirms Columbia Australia's position as one of the nation's leading manufacturers of precision plastic injection moulded parts and metal components.
As Columbia Australia looks to the future, Ryan is confident that the responsive, agile and reliable approach that ASA brings to the partnership will meet Columbia's ever evolving needs.