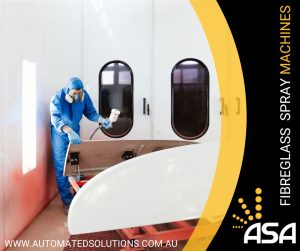 For this 'What We Do Wednesday', we focus on Fibreglass Spray Machines.
At Automated Solutions Australia (ASA) we are experts in robotic fibreglass spray machine integration. ASA uses continuous or woven glass filament to reinforce fibreglass pools, yachts, tanks, and other hard composite items. Gel coat and resin applications are another area of expertise for ASA.
Use one of our robotic fibreglass spray machines to automate your gel coat and fibreglass manufacturing plant. You can choose from a large selection of inherently safe robots for all your spraying requirements. We are aware of the cumulative effects of escalating environmental compliance, rising material costs, the inherent skills gap, and the need for innovation, not to mention the labour shortages in the market at the moment.
Styrene vapors and some epoxy resins create a hazardous production environment, which adds to the complexity of occupational health and safety considerations associated with manufacturing fibreglass. Removing employees from these settings and implementing robotic fibreglass spray machines may improve worker health, safety, and product efficiency in many areas of the composites industry.
Robotic fibreglass spray machines ensure that your products are of the highest calibre, are dependable, save money on labour and materials, accelerate production cycles, boost worker safety, and lower emissions.
You can rely on us for all your gel coat and fibreglass spray needs.
To read more about Robotic Fibreglass Spray Machines, click here.
To speak to the experts in automation, phone 1800 ROBOTS.