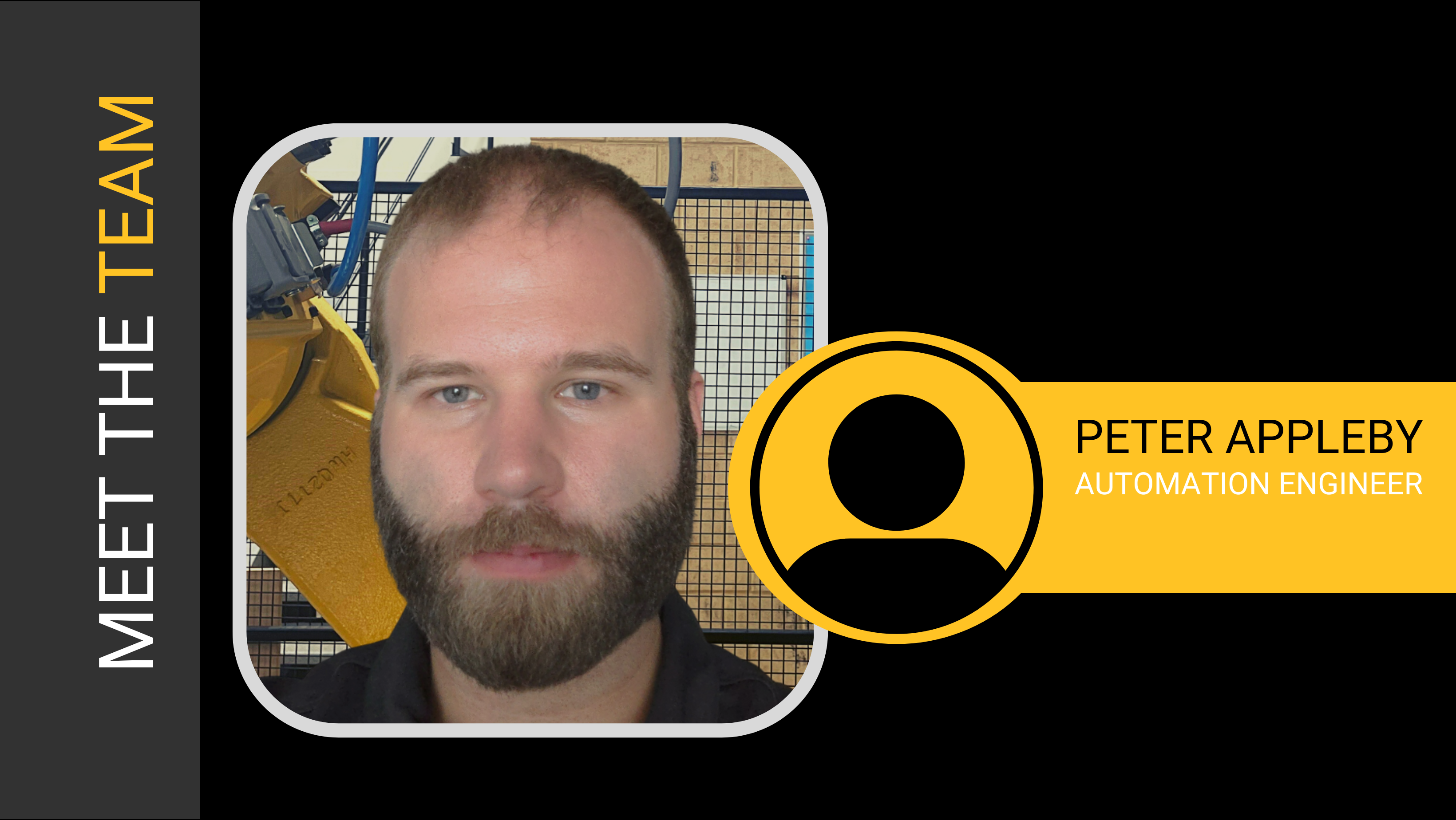 What has been my favourite robot to work with?
If you were to ask me what robot I am most familiar with, it would definitely be the FANUC P700iB painter robot. Having worked with these in combination with the R30iB controllers on several projects, I feel very comfortable with them. That said, I'm someone who enjoys a challenge and I'm also a bit of a nerd for big robots, so while I haven't done a lot with them, the swing arm FANUC P250s featuring additional axes used for processing the inside of big vans would definitely rate up there as one of my favourites. On a project I was a part of, we had these swing arm units mounted in the sealer cell on the end of two big custom arms. These two arms swung the whole robot into the cell for processing, and then out of the way of the units indexing out of the booth when they were finished. When processing, they would have to reach all the way in from the rear opening of the van up to the front firewall area to seal the seams. From there, they would work backwards towards the rear of the unit, processing all the interior seams on the way back out. Seeing such a big robot (3m of full reach from its base on the additional axes) reach all the way in and twist itself around inside the unit to reach all the seams, was really cool.
Most interesting project?
The most interesting project for me, and where I learnt the most, was working on the brownfield start-up in Ontario, Canada as an Installation Engineer, and then evolving into a Process Engineer. I really enjoyed learning how all the various systems in a robotic paint booth work and are installed, and I really enjoyed working with Dave Roulston who has a real wealth of knowledge and experience. I found it interesting to see it all come together, initially from an empty bay of the plant to a fully operational paint booth running production. This experience gave me a great insight into how system integration works, and how all the various system components interact, which has been invaluable as a tool when trouble shooting as an Installation Engineer or Process Engineer. Moving ahead, I am looking forward to the opportunity to developing similar insights from a controls perspective.
What's been the biggest challenge I've had to overcome on a project?
There was a particular modular build of a cell that was a tough one, primarily from the aggressive deadlines imposed on getting the cell launched and brought off, before it had to be taken apart and shipped to site. It meant that we were working two shifts, and I was partnered with Brendan Howe, one of my ASA colleagues, on nights. It was my first exposure working with pedestal robots, and my first time working with the new R30iB+ controllers and all the associated software updates and features, so there was a steep learning curve. We put in some long shifts, but in the end, we got through the Mod Build ahead of schedule, and shipped the cells off the factory floor with no outstanding issues, so it ended up being a great achievement and a good learning experience for us both.
What has been your biggest achievement with ASA to date?
My biggest personal achievement certainly wasn't my biggest project, but more so one where I had to overcome some big hurdles. I was earmarked for a certain area of sealer dispensing project, which at the time I had not worked with before. Due to COVID, resources were significantly impacted, and the result was I went from being part of a team, to working autonomously on equipment I wasn't familiar with. I had previously limited exposure to the sealer robots and the associated vision systems, so it meant taking the initiative, and learning how to get the system operational, and properly calibrated. I successfully navigated this, and by the time additional resources arrived, I had almost all of the systems set up and calibrated properly, and I had correctly identified several installation issues and worked with the site team to resolve them. Over the course of the six weeks, I became proficient in the sealer systems and sealer process work, so much so that in the last couple of weeks of production support, I was tasked with introducing a new recruit with the systems and to FANUC robots in general. The site team and larger collectively group working on the project did a great job, and in the end we left site two weeks ahead of schedule because the customer was satisfied that there were no outstanding issues and we were no longer required, which is a great outcome for everyone.
What does a typical day look like for you, and what are you currently working on?
I'm currently working on a greenfield paint shop installation, where we are installing a total of 78 robots across 5 lines and a total of 13 cells. My day typically starts at 5 am, shower, dress, pack breakfast and make myself a coffee. Call me fussy, but I can't stand American "coffee", so I make my own. I meet the team around 5:40 am, and we head to the plant for a 6:00 am start. We'll get set up, go through our Job Safety Analysis (JSA) and Work Method Statement (WMS) for the activities of the day, before a 7:00 am site meeting, where ourselves and other contractors will discuss activities that are going to interact with others on any given day. At 8:00 am, we have a specific process meeting with the customer, which occupies a good part of our morning. At around 11:30 am, we break for lunch, before heading back in to continue work. Typically, when we are working onsite, it is closer to a 10 hour day, and we finish around 4:00 pm. With the heat and humidity, we are currently working in, my first destination is the shower, followed a close second to the hotel gym. I eat relatively early, around 6:00 pm, and I always try to be in bed by 9:00 pm to get a good 8 hours of sleep before doing it all over again the next day.
What do you enjoy most about working at ASA?
The people. ASA has a really great group of engineers who are all friendly, hardworking, highly skilled, and professional. I find it really stands out being part of that group and knowing that on site, we have that reputation to uphold. It feels great to be a part of that, and it pushes me to maintain that reputation.