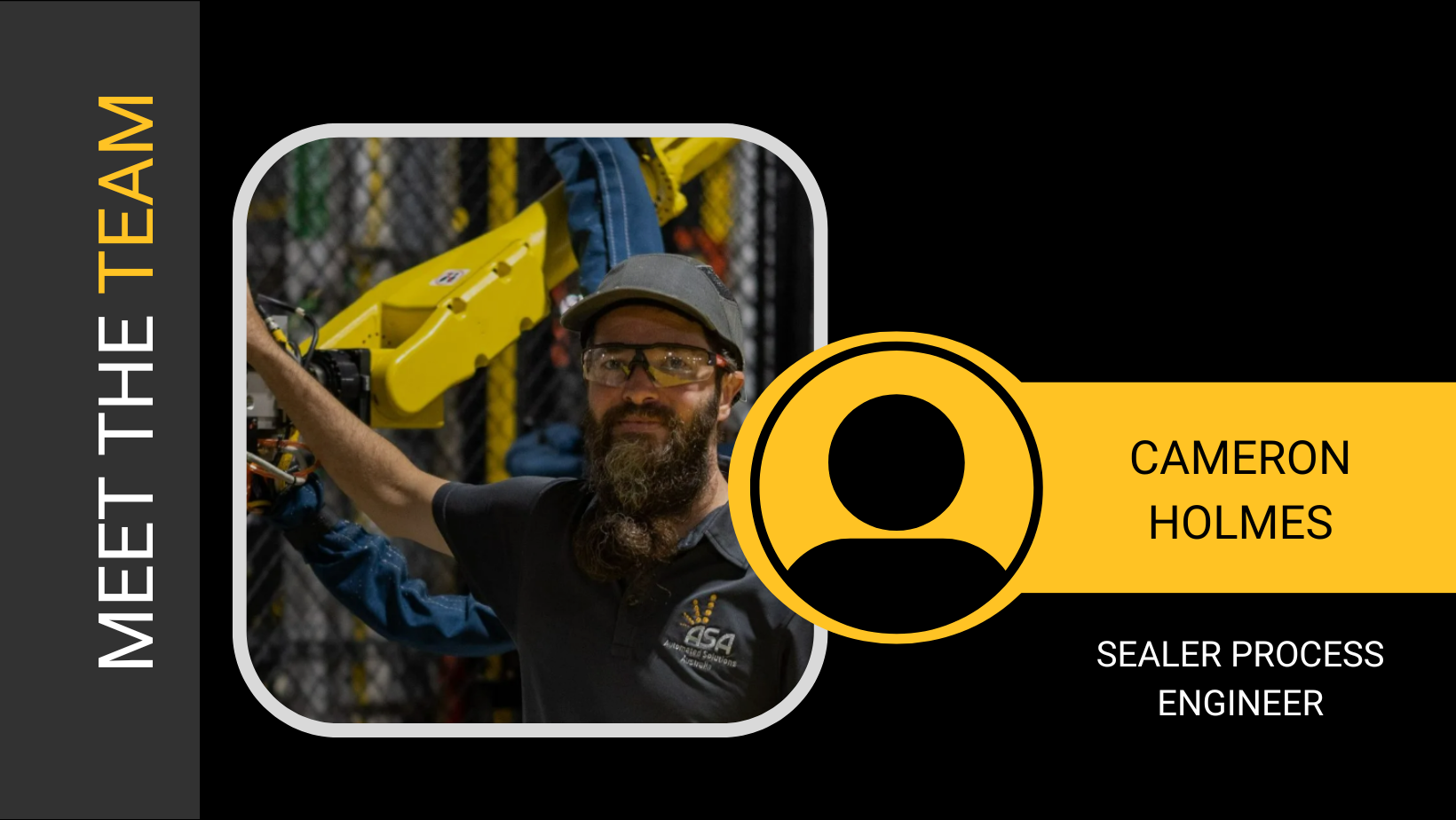 Cameron Holmes is a Sealer Process Engineer for Automated Solutions Australia based out of Texas in the USA. He personifies ASA's ethos that its greatest point of differentiation is its people.
Outstanding reviews from his peers, and feedback from our customers and end users regarding the work Cameron has done, show that he matches our company's drive to earn the trust of our customers through excellence, integrity, responsiveness and respect.
"Cameron is a brilliant robot programmer and has been an absolute pleasure to work with throughout our project together! What I appreciated the most about working with Cameron is how approachable and friendly he is. His calm, cool, get the job done mentality has been one of the key factors in making our project a success. Cameron continues to do an excellent job at listening to customer requests from both GM & Fanuc, and his ideas and suggestions onsite regarding process development that have proven beneficial to the project. Cameron has no problem completing tasks within a timely matter – he's always on schedule or ahead and brings with him a very positive and calm attitude."
Cameron had an unorthodox entry into robotics, initially working alongside FANUC Robotics for the first paint shop sealer cell installation back in 2001 while completing an apprenticeship. Cameron's efforts got him noticed, and this led to a desire to work in the auto sector, which saw him secure a tenure with GM Holden in Australia through until 2016 when he joined ASA as a Process Engineer. Cameron was immediately sent overseas, where he trained in North America learning both Paint and Sealer Process Engineering, before being deployed to various places across the globe for projects.
We asked Cameron a few questions about his career with ASA.
The COVID-19 pandemic has completely changed our lives. Over the past few months, what has this meant for your work?
I was lucky enough to have offline programming available to me when the pandemic hit. I worked from the house for 2 weeks and was requested back onsite in early August. It has really pushed everything back, the ramp up for production has been slow due to supplier issues and government regulations. The new norm is having my temperature taken upon arrival to site each day, a face mask at all times and strict social distancing and hygiene guidelines to abide to.
What has been your favorite robot to work with?
Tough question. I've mainly worked with the M-710's which are fun and versatile robots. Perfect for sealer. I spent time at the Fort Wayne facility in Indiana which has the M2000's on the sealer line. They were impressive. Monster robots that shook the floor. I got to program them a little which was great but I would say the M710 because I know it's capabilities and does everything I need.
Most interesting project?
By far the most interesting project I have worked on is the waterborne system we setup at Wuling in Qingdao, China. It was my first adventure abroad. It was definitely a cultural experience and I learned a lot from the team on site.
What's been your biggest challenge you've had to overcome on a project?
I would say integrating new software and dispense equipment into the GM Arlington line. Lots of trial and error as it is a completely different setup to what everyone is used to.
What do you enjoy most about working at ASA? (Best part of your job?)
Probably the job satisfaction. There is a great sense of accomplishment seeing an install up and running without issues. Our field is constantly evolving and there is always something challenging and new to figure out hence the reward of accomplishment is high. We also have a great team and it is great catching up with the guys in various places round the world too.