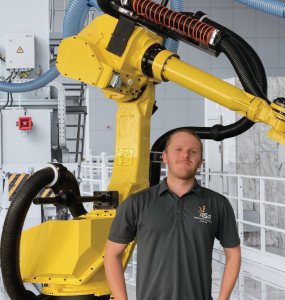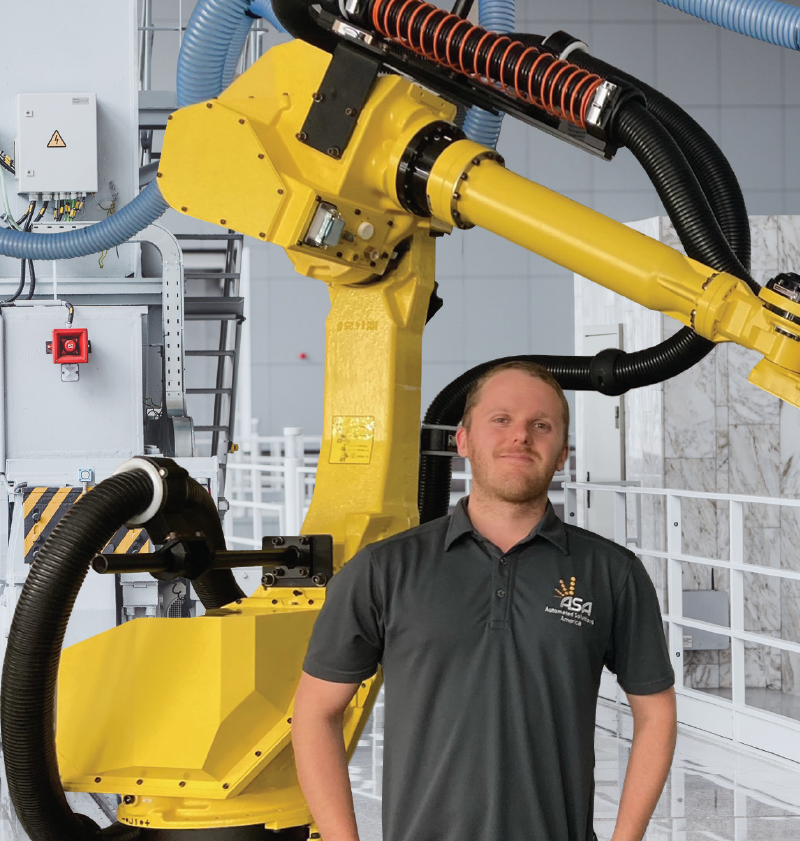 What has been your favourite robot to work with?  
That is a difficult question to answer I would have to say the FANUC M710iC. I have had multiple experiences working with model in the SwordBrush application. You may ask what a sword brush is? Picture a 1-metre long EOAT "end of arm tooling" that is shaped like a chainsaw. Sounds like a scene out of a horror movie, but this one is fitted with two micro bristle brushes that just spin. Given the application tooling, this application completes cleaning of the vehicle prior to being painted. Naturally, it is a new technology that is still being rolled out across the world. It has been a joy to be involved in the development of this system with this exceptionally versatile application. 
I would also like to make an honourable mention to the Fanuc P700. I have worked with this robot on almost every paint application project I have done, and it is exceptionally well engineered. A close second indeed.
Most interesting project? 
 I would have to say that the most interesting project for me was working on the Clearcoat installation. This project had such a short deadline, but it was incredible working with such a well-developed team of engineers from ASA and FANUC America. I was able to see this project from start to finish and was provided with terrific customer feedback relative to the project deliverables. It made for a great challenge and opportunity to use my controls skills. 
What's been your biggest challenge you've had to overcome on a project? 
I accept new challenges every day at ASA. It keeps the job changing. However, one of the biggest challenges I experienced on a project was quite recently at in Mexico wherein I had to learn a new language (Spanish). I had to be able to communicate with the customer and contractors alike, as well as program the equipment. This assignment was my first greenfield project, meaning I saw this project to completion over its one-year timeframe. In this situation, it was great to effectively see a pile of dirt turn into an automotive assembly plant, delivering quality vehicles all of the world. For me, to be involved in the project from beginning to end is such a rewarding experience .
What do you enjoy most about working at ASA? (Best part of your job?)  
The Ability to learn new things, I believe ASA is an employer that provides opportunity to its employees and allows us to grow as engineers. I enjoy working with such an amazing team, and we are constantly challenging each other every day in teaching and learning smarter ways to make things better. The opportunity to be able to see the world is incredible also, due to the nature of our work we travel a lot. Recently I was able to visit Niagara Falls after my project in Canada and this is certainly a highlight for me.
What has been your biggest achievement to date?
I would say how much I have grown as a person. I have learnt a lot about myself doing this job. I've overcome and thrived on every inherent challenge presented to me. When I started with ASA as a graduate straight out of my electrical and electronic engineering degree, its safe to say I was "green". Now, I'm multifaceted in process, controls, and software engineering. I'm proud of the fact that I've been able to do that, and that I am given the opportunity to continue working on my capabilities. To finalise all this development in myself has cascaded down to further development to my work, which allows me to kick goals in life and in my career.
What does a typical day look like for you and what are you currently working on?
A typical day for me would be up between 3 and 4am. I often go to the gym before work. Once complete, I grab some oats or Wheaties (the breakfast cereal of champions), then head into site. Currently I'm on a greenfield project, and our start time is 6am. While we're in the launch phase, I am working a 10 to 12 hour shift depending on our schedule. During the day I will consult with the customer and work on the controls automation side of the Topcoat + Prime+ Swordbrush zones.  At this site we have 78 robots to commission across functional testing, interlocking and safety. So its safe to say that the day is never without things to do. Finally, once its knock off time, I head back to the hotel, and get ready for tomorrow.
Three words to describe your role?
Dynamic, Resourceful , Incredible.