SQP WAS NAMED AND ESTABLISHED ON THREE CORE PRINCIPLES: SERVICE, QUALITY & PRODUCTS
Founded in 2006 this local West Australian family business started out as a small-scale jobbing shop, renting just a few square metres of space within another workshop. Since then, SQP has grown exponentially, servicing industries including mining, oil and gas, military, agriculture, and general engineering. They have expanded into their own manufacturing facility and are now specialists in CNC machining, automated manufacturing, additive manufacturing, and metrology.

As an early adopter of industry 4.0 technology, SQP were the first company in Western Australia to purchase a Mark Forged FX20 which enables large scale and rapid manufacture of 3D printed composite parts.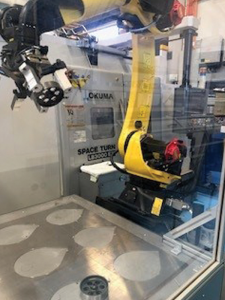 SQP machine almost every material, from plastic and synthetics, to steel, aluminium and bronze. With ISO9001 accreditation and cutting edge metrology technology, this machine shop is able to guarantee the quality of all of its manufacturing. 
Over the years, SQP have invested in three automation cells with Automated Solutions Australia (ASA). ASA and SQP collaborated on the design of each of these cells in order to identify the existing pain points as well as working closely together to work out a bespoke design that would best suit SQP. Dave Miller, owner of SQP reflects that the dream was always 'lights out' production, where the cells are able to continue production through the night unsupervised, increasing productivity and allowing the company to meet tight deadlines. Mr Miller, commented that 'Working with ASA was a collaboration, where we had the ability to adapt cells and change requirements to suit our business needs.'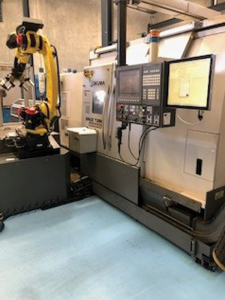 It was important to SQP that at the forefront of this investment, that there was consideration for growing their people and introducing them into Industry 4.0. SQP strongly believes that their team members are the most valuable assets and have used this opportunity to upskill their apprentices in the use of robotics. To support this, ASA sought to reduce the possibility of operator error by integrating everything into a fully customised operator interface panel aimed at simplifying the addition of new products, thereby having an ever increasing range of products that the robot can load into the machine tool. It was SQP's requirement that the robot has the ability to load any raw stock and unload machined product form the machine, limited only by the weight and diameter of the raw stock.   
The relationship between SQP and ASA started in 2014 when the first Fanuc robot was installed by ASA to tend to an Okuma LB4000 EX. This was followed by a second cell in 2020 when another Fanuc robot was installed on an Okuma Multus multitasking machine.
The latest cell installed at SQP presented ASA with unique requirements in that the robot is installed on a moveable skid and has the flexibility to be moved between workstations. Pat Green, Director of Automated Solutions Australia reflected that 'the versatility of having a robot on a moveable skid was a somewhat unique request for ASA. While our systems frequently tend more than one machine, they tend toward employing large, long reach robots with relatively heavy payloads. And while there are several machine tool loaders out there, SQP simply loved the ease of use of our system and the fact that we have tailored it along the way to add features as they request, thereby making it SQP's system. We took the time to understand SQPs needs and created a truly bespoke solution allowing the robot to be moved between machines.' 
When developing an application solution, the Fanuc M20iD/25 was chosen for both its size, reach and payload to tend to an Okuma LB 3000. Automation has become an integral part of SQP's operation and assists the team in meeting cost and delivery requirements for their customers.  These Fanuc robot cells are at the cutting edge of the industry in terms of their dependability and predictability.
With a combination offering of CNC machining, automated manufacturing, additive manufacturing, and metrology, SQPs products continue to emerge into an impressive range of industries with continuous expansion into new areas. 
To contact SQP please visit their website by clicking here. 
To read more about FANUC Industrial robots, click here.