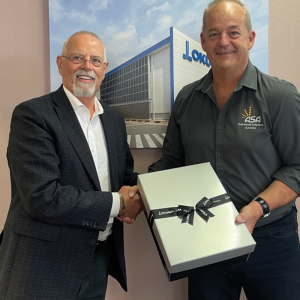 Automated Solutions Australia (ASA) is an inaugural member of the Okuma PIPE Alliance. Okuma Australia's own PIPE (Partners In Productive Expertise) alliance program has members from several well-known and highly regarded suppliers of allied and accessory products in Australia. The fundamental principle upon which it is based is trustworthiness.
The invited members of PIPE have proven to Okuma and each other that they conduct a high standard of commercial dealing and stand by their products 100%.
The first project ASA and Okuma Australia collaborated on was a bespoke machine tool tending solution designed by ASA for an Okuma customer's machine tool cell.  This was the beginning of a very strong alliance between Okuma Australia and ASA.
For nearly 20 years Okuma's partnership with ASA has continued to deliver excellent outcomes for Australian & New Zealand manufacturers.
Whilst Okuma has an impressive 40+ year presence in Australia and New Zealand, they are extremely proud of Japan's ownership of Okuma Australia for the last 20 years.
Okuma Australia recently celebrated this 20-year anniversary with all Okuma staff members.
Pat Green, Director of ASA commented 'We would like to extend our congratulations to the team at Okuma. When I first met the team at Okuma, they shared that, like ASA their differentiator was their people, their passion, integrity, loyalty and experience. I knew from that moment back in 2006; this would be an enduring partnership. Since our first project together in 2007, it continues to be an honour to create outstanding automated machining cells with Okuma for our clients in both Australia and New Zealand.'
Coincidentally, late last year ASA also celebrated their 20-year anniversary, A gift was presented to ASA's Director, Pat Green to acknowledge the important contribution the two companies have made to each other's respective growth and success for much of those 20 years.   
'Congratulations on the 20th anniversaries for two exceptional businesses,' commented Dean McCarroll, Managing Director, Okuma Australia & New Zealand, 'We are proud to be associated with ASA.  Our strong, collaborative working relationship provides outstanding automated machining cells to benefit the manufacturing industry in Australia & New Zealand.'
You can find Okuma's website, by clicking here.