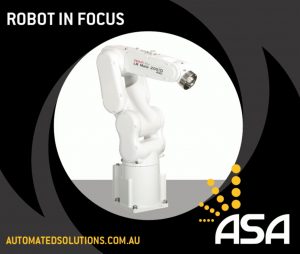 The FANUC LR Mate 200iD/4SC is suited for operation in confined spaces that demand a small work envelope. The arm's maximum reach is 550 millimeters. It is intended for lightweight applications, with a maximum wrist load of 4 kg. With a unit weight of only 20 kg, the robot can be mounted in a variety of ways, including floor-mount, ceiling-mount, and angle-mount, depending on the job requirements.
It is the ideal option for automating small, complex tasks in controlled environments. Common applications include:
Electrical Board & Semiconductor Assembly – it is ideal for complex assembly of medical devices, semiconductors, and optical media devices where electrostatic discharge can be a problem. The dexterity afforded by six control axes enables precise movement and excellent repeatability, while the clean room's layout prevents discharge and contamination.
Picking/Packing – it can be used in tandem with optical sensors to pick and pack food and beverage items in a clean environment. It can also sort parts with a high degree of efficiency and precision.
To read more about the LR Mate 200iD/4SC, click here.
To speak to an industry-leading expert, phone 1800 ROBOTS.