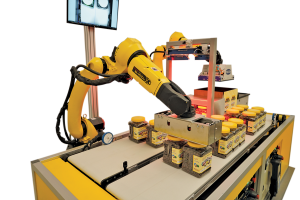 A variety of food and beverage products, such as fresh produce, snack foods, dairy, frozen and chilled items, as well as a variety of beverages, including bottles, crates, and kegs, can all be handled by an automation system.
From supply, through to distribution, pick and pack, material handling and processing, palletizing, sealing, and distribution are a few automated applications in the food and beverage industry.
It goes without saying that producing quality is extremely important, but in a complicated system, it can be challenging to minimise safety problems.
Automation can assist you in resolving these problems by maximising ingredient use, enhancing food safety, and decreasing the possibility of any human-related errors.Automation in the food and beverage industry refers to the strategic application of technology to numerous processes. Modern food production facilities face a difficult issue. They must manufacture high-quality goods in large quantities while keeping costs under control. Fortunately, automation may assist businesses in achieving these objectives and scaling up as the market expands. Food businesses can combine robotic material handling for shipping, case packers, tray packers, and factory automation technology for primary packaging. Automation has improved every stage of food packaging.
To speak to an industry-leading expert, phone 1800 ROBOTS.